Carey Hart Honors Wife Pink In Heartwarming Birthday Tribute
By Regina Star
September 9, 2020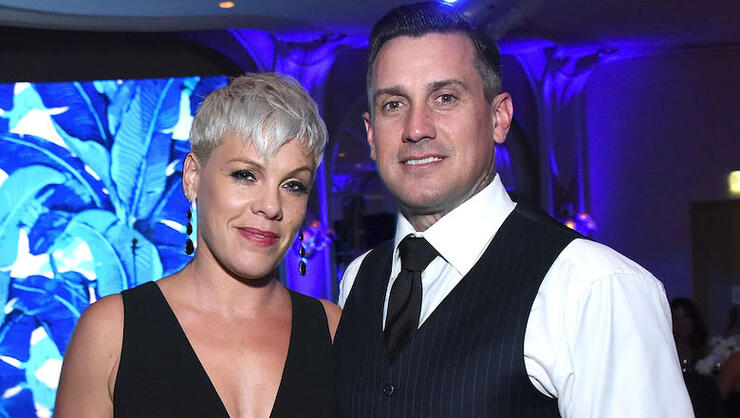 Carey Hart shared the most thoughtful tribute to honor his wife Pink's birthday.
The former motocross star celebrated the "Who Knew" singer turning 41 years old on Tuesday (September 8) in the sweetest way ever. Taking to Instagram with a slideshow of touching photos of Pink, Hart, and their two children — 9-year-old daughter Willow, and 3-year-old son Jameson.
"Happy birthday to my MUCH better half, @pink. I've been w/ you for almost half of your life!" Hart captioned the photo set, featuring everything from a Cool Mom & Dad-style selfie to the Grammy-winning songbird posing with their little ones. "It's been so amazing to watch you grow from a young hell raiser, to the best mom to ever do it, role model, philanthropist, icon, and wife. Enjoy your birthday baby. Willz, jamo, and myself love you."
Pink also honored her special day with a message of self-love and gratitude. In a video posted to Instagram, she challenged fans to write down as many things they love about themselves according to how many years old they are. 
"However old you are, I want you to write down that many things that you love about yourself if you have time. Today, tomorrow, your next birthday," she says in the clip. "I'm going to try to figure out 41 things I love about myself. And since we're all sliding sideways into the apocalypse, I thought it would be a good time to do it."
Hart and Pink, who tied the knot in 2006, celebrated their 14-year wedding anniversary on January 7. Despite the uphill battles they've faced over the years — including a brief separation in 2008 — the couple has essentially been inseparable, having credited couples counseling for the strong bond they have today.