Upcoming AXS TV Documentary Series Will Look At The Many Myths Of KISS
By Andrew Magnotta @AndrewMagnotta
September 9, 2020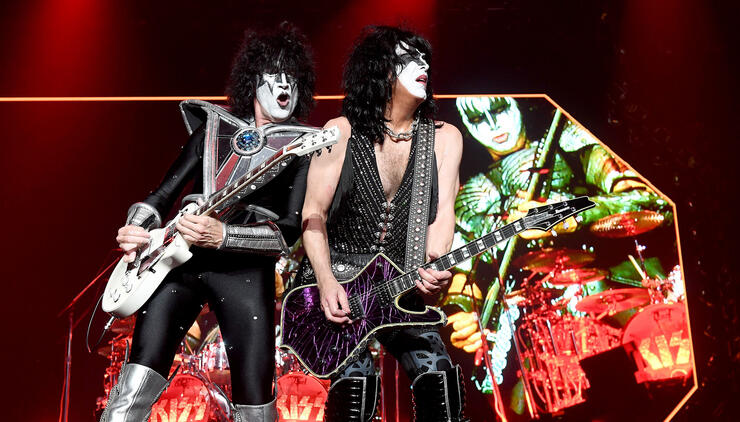 A new AXS TV documentary series will explore some of the strangest stories in the history of music.
Music's Greatest Mysteries is slated to go debut later fall.
The show will span a variety of musical genres and eras, investigating myths and tall tales that have defined popular music.
The first season will search for answers to questions about topics like, the origins of the feud between Michael Jackson and Prince; whether Elvis Presley was a narc; if Avril Lavigne died in 2003 and was replaced by an actress; backmasking — hidden messages in music; the story behind Garth Brooks' "Friends In Low Places"; and the many myths of KISS.
"Music's Greatest Mysteries gives viewers an in-depth look at the myths and legends that have rocked the industry," said AXS TV head of original programming, development and multi-platform content Sarah Weidman. "Featuring some of the biggest names in music, packed with expert commentary, and exploring compelling stories both known and unknown, Music's Greatest Mysteries promises to reveal new tales to even the most seasoned music fans."
Mystique around Kiss contributed in no small part to the band's explosion in popularity among teenagers in the '70s.
For years, the band members' naked faces were unknown to the public, and the uncertainty gave rise to many more questions.
Perhaps the most famous myth was that KISS stands for 'Knights In Satan's Service.' There's also the story that Gene Simmons' unusually long tongue came about after he had a cow's tongue grafted onto his own.
The story that the band's famous Kiss comic book with Marvel Comics was imbued with the blood of the four co-founders, however, is actually true and was witnessed by a notary.
Photo: Getty Images
Chat About Upcoming AXS TV Documentary Series Will Look At The Many Myths Of KISS