What Is Miranda Lambert Feeding Her Dogs?
By Lauryn Snapp
September 10, 2020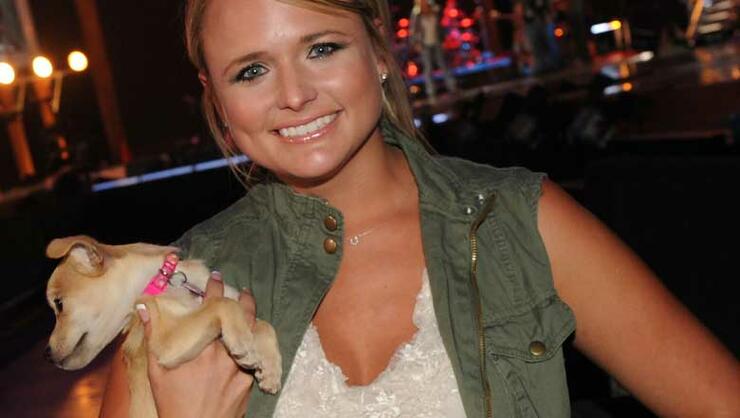 When it comes to cats and dogs, your pet preference says a lot about your personality, and Cody Alan and Miranda Lambert are "dog people."
In an interview, the "Blue Bird" singer shared her secret recipe for making sure that her pooches are well fed at home. 
"I have kind of done a journey," says Miranda. "I have all different sizes and ages, and I have three seniors. So, I went the last few years on a food journey with my dogs, trying to figure out how to feed all of them the same thing. It was getting complicated having to leave and having a dog sitter and saying, "There is food for this person and whatever." 
"I have been talking to the vet that I go to, and through experimenting, I went back to good old fashioned, good nutrients, dry dog food. They are better on it. They are healthier on it. That being said, we were creating our line for a while, and it is finally here and its perfect timing because I have 8 dogs, so I get a discount, so that helps." 
In July, Miranda's 'Muttnation' partnered with Tractor Supply Company announcing a new exclusive line of pet food and treats that would feature an assortment of balanced, nutritional recipes for both dogs and cats – made with real beef or chicken and other natural ingredients. 
"All the boutique food, and the grain-free, I've had several vets tell me that it's not actually proven that it does anything, so I went back to kibble, and they love it." laughs the global superstar.
Check out Miranda's line of nutrient-rich dry dog food by picking up a bag of "On The Farm" at your local Tractor Supply store. 
Do you enjoy country stories like these? Bookmark www.CMTCody.com and check back daily for exclusive interviews, trending topics, and the latest from country's hottest stars. Connect with Cody Alan on socials by following along on Twitter and Instagram @CodyAlan.
Photo Credit: Getty Images.
Chat About What Is Miranda Lambert Feeding Her Dogs?