Taco Bell Is Now Selling Its Own Custom 'Jalapeno Noir' Wine
By Emily Lee
September 15, 2020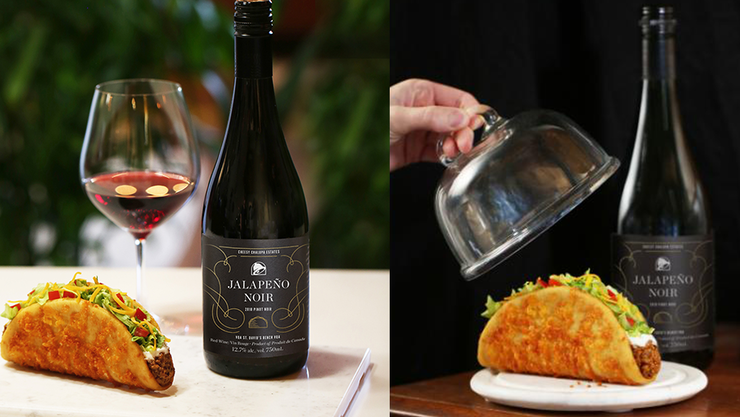 Wine, anyone?
On Monday (September 14), Taco Bell introduced the world to its latest menu offering—its own custom wine, Jalapeño Noir. The only downside to this new addition is that Jalapeño Noir is only available in Canada for a limited-time only.
According to a press release from Taco Bell Canada, Jalapeño Noir pairs perfectly with its Toasted Cheesy Chalupa. In a press release, the fast food chain described the pairing as "irresistible," adding that "the rich taste and crunchy texture of the beloved Toasted Cheesy Chalupa complements notes of wild strawberry, cherry and beetroot in this silky limited-edition red wine."
Jalapeño Noir, which is sure to be considered a collector's must have for the biggest Taco Bell fans out there, has three unique bottle labels, costs $25 Canadian or about $19 US. Fans can buy it on Taco Bell's Canada website or in some locations in Ontario.
This new limited-edition menu item comes shortly after Taco Bell announced it was removing multiple fan favorite items from its menus, including Mexican Pizza and shredded chicken. Perhaps a bottle of Jalapeño Noir will ease the disappointment for some Taco Bell fans?
Photo: Taco Bell
Chat About Taco Bell Is Now Selling Its Own Custom 'Jalapeno Noir' Wine