Lil Durk Reveals What Young Thug Showed Him In Their Famous Computer Meme
By Regina Star
September 22, 2020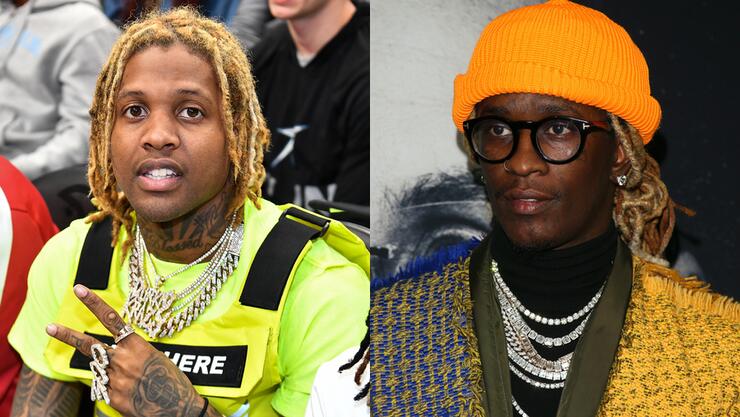 Lil Durk is finally addressing his famous meme with Young Thug.
Years back, the two rappers went viral after appearing in a photo that showed Thugger and Durk staring hard at a computer screen inside the studio. Whatever it was the "Hot" rapper showed the Chicago native that night is anyone's guess.
At the time, the meme sparked tons of jokes from fans who couldn't help but chime in with jokes.
"When your mom told you to get off the internet because she was expecting a call," one user captioned the pic at the time.
Another funny caption read, "After I buy this Xbox live you better not ask me for nothing else, you hear me?"
Mixing engineer Alex Tumay offered a more believable explanation, suggesting Thug, who works "pretty well" with ProTools, was probably showing Durkio something on the workstation. When asked what he made of the image, Tumay guessed the 29-year-old was "probably automating volume or arranging vocals."
For years, the meme has remained one of the culture's biggest unanswered mysteries — until just recently, when a fan resurfaced the image earlier this month. "Whatever he showed Durk this night made that n—a evolve 😂😂😂" the user captioned a side-by-side shot of the meme and a still from Durk's appearance in Drake's "Laugh Now Cry Later" music video.
Durk, coming across the tweet, finally gave us the answer. "He showed me 20million," the 27-year-old replied, seemingly referring to YT's bank account.
"I was just about say his bank account tf," a fan responded (albeit a little too late).
What say you, fans? Are you buying it?
Chat About Lil Durk Reveals What Young Thug Showed Him In Their Famous Computer Meme