Carey Hart On Critics Who Don't Like Pink's Biden-Harris Shirt: 'Bye Karen'
By Hayden Brooks
September 23, 2020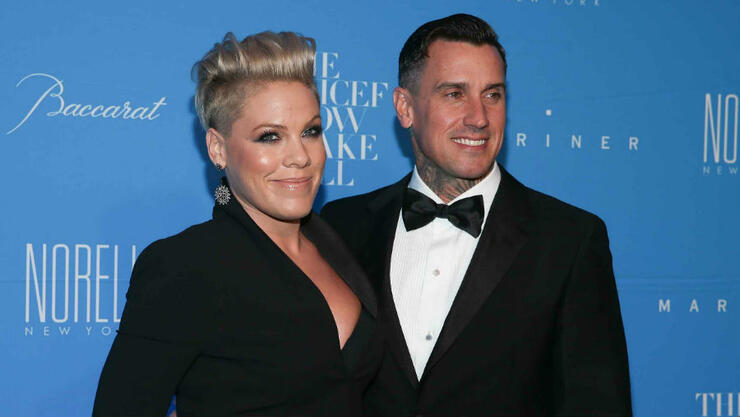 Pink caused some havoc in her comment section when she wore a Biden-Harris t-shirt during a motorcycle ride on Sunday (September 20), but her husband, Carey Hart, was the one who hit back with some short (and lengthy) clap backs for Instagram followers to witness.
When one user disagreed with the pop star's vote for former Vice President Joe Biden and Senator Kamala Harris, the user suggested that the star, 41, stick to her bread and butter of music. "Trump 2020! Unfollowing... Stick to music and stay away from politics.. Bye Alicia [Moore]," the user wrote, to which the former motorcross rider, 45, replied, "Bye Karen."
Meanwhile, when another user went on to make claims about Biden, including mention that he "destroyed Black Lives for decades," Hart went at it with a lengthy response, despite wanting to make it brief. "I'll try to keep this short," he kicked off the message, as per Yahoo. "Yes Biden has been in politics for 47 years. Reason I am voting for him is because I 'hope' he puts together a great team that will do positive things. And that is what most of Trump's high-profile early [supporters were] planning for him to do. But his narcissism kicked in and away he went. Trump retweets white power s**t all the time. Called peaceful protesters animals, and called the racist pieces of s**t in Charlottesville 'good people.' [The Second Amendment] is a constitutional right, and no two people (Biden and Beto) can take that away. I for one think there needs to be stricter gun laws, 'cause guess what? That won't affect me because I'm a law-abiding citizen.'"
Pink recently had her moment of vulnerability when she opened up about her rocky, but beautiful marriage to Hart. "My friend @jbpitts2 took this photo of us. He's still my favorite sweet little dirtball. He and I have been at this a long time, and it is our relentless and stubborn idealism that keeps us together," she captioned a photo of the two embracing each other with a hug. "Marriage is awful, wonderful, comfort and rage. It is boring, terrifying, and a total nail biter. It is loving another fallible creature while trying to love yourself. It is a lifetime of coming back to the table. People laugh at us because we're either fighting or laughing. They roll their eyes when we talk about therapy. But I'll tell you what. It's worth it. All of it. Even when it isn't."
Chat About Carey Hart On Critics Who Don't Like Pink's Biden-Harris Shirt: 'Bye Karen'