Jimmie Allen Says 'I Love Television Bro' + Reveals His Favorite Shows
By Lauryn Snapp
September 25, 2020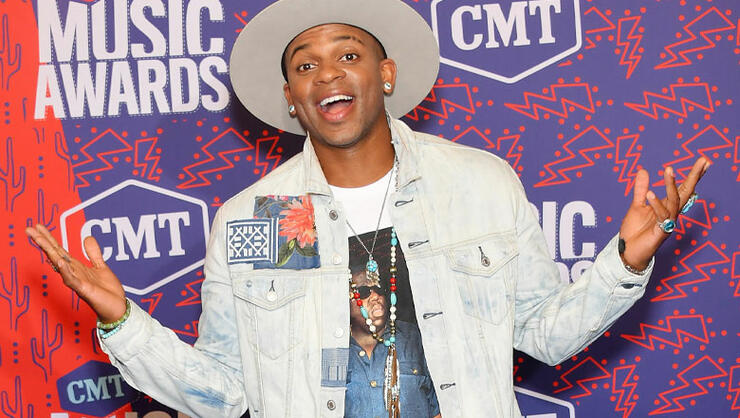 If Jimmie Allen had a list of favorite pastimes, spending quality time with his family, going to Disney World, and watching television would probably rank at the top.
In a recent interview with Cody Alan, the "Best Shot" singer revealed the shows he has been watching the most of during 2020's lockdown, plus what Disney classics he is excited to be introducing his daughter Naomi Bettie too. 
"She will watch the little kiddie stuff. You know, a little Mickey Mouse. "It's Mickey Mouse Clubhouse, come inside, it's fun inside," sings Jimmie. "She will watch all of that stuff. But, I'll put her on some classics too. I'm going to put her on "Ducktales," "Care Bears," and "Winnie-The-Pooh."
Jimmie's love for tv shows doesn't stop at Disney. The country star shared that this year's most interesting television shows also include some popular Netflix and network tv. 
"I'm watching too much right now. I just finished "Lock and Key" on Netflix. It's good. I don't want to mess it up for people, but my mind is blown. I'm watching that. I just finished "Power." I am rewatching, "One Tree Hill." I am back on season six. I just finished rewatching "Friday Night Lights." I'm watching all the CW shows. "Riverdale," "All American," "Arrow," "Flash," "Supergirl." I love television, bro."
Cody has some catching up to do.
RELATED: Jimmie Allen Reveals Tattoo Regret.
Do you enjoy country stories like these? Bookmark www.CMTCody.com and check back daily for exclusive interviews, trending topics, and the latest from country's hottest stars. Connect with Cody Alan on socials by following along on Twitter and Instagram @CodyAlan.
Photo Credit: Getty Images.
Chat About Jimmie Allen Says 'I Love Television Bro' + Reveals His Favorite Shows