Sen. Kamala Harris Greeted By Shaw Drumline After Raleigh Speech: Video
By Jason Hall
September 29, 2020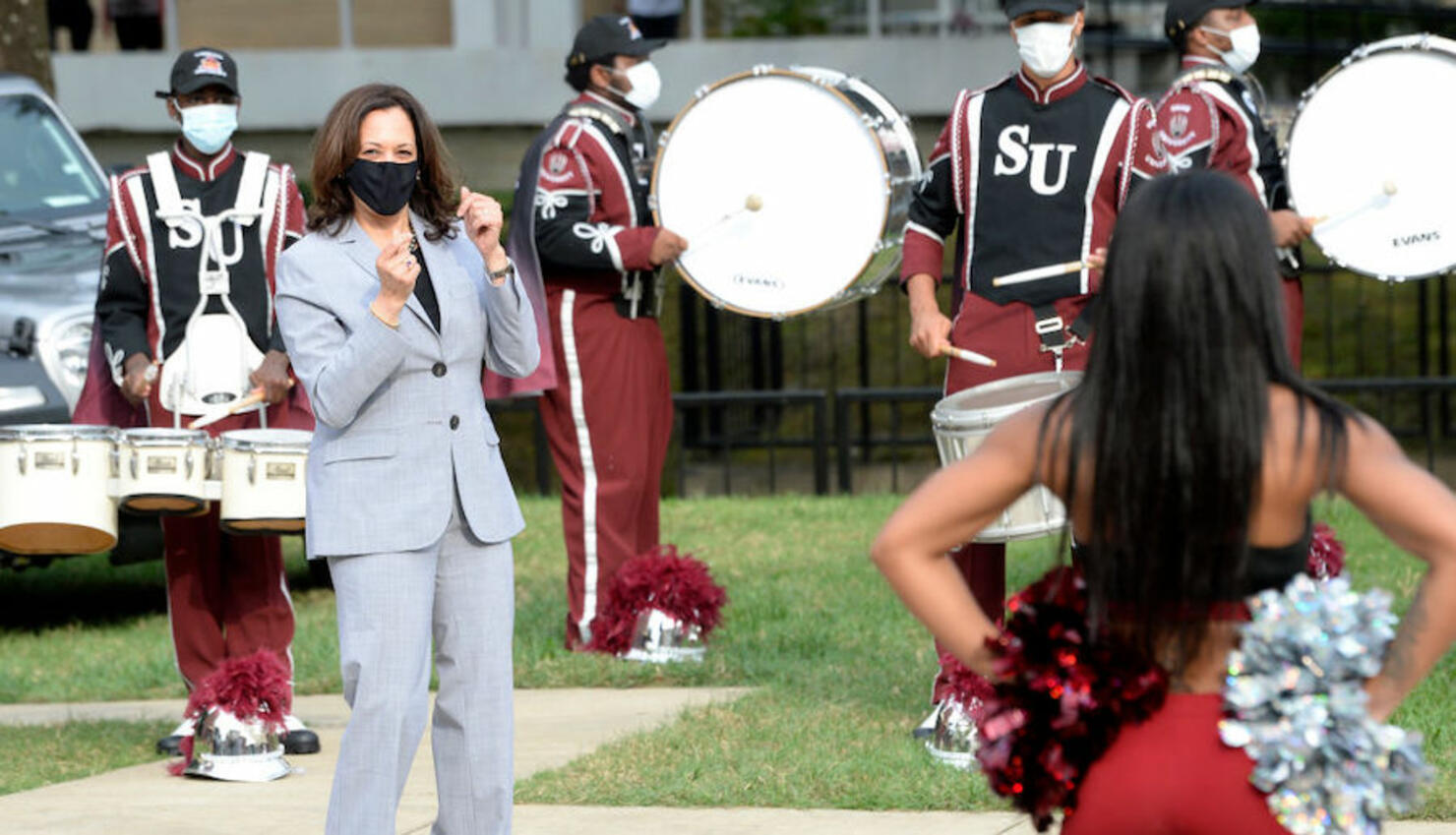 Democratic vice presidential nominee, Senator Kamala Harris, received a warm welcome from Shaw University students after her appearance at the HBCU's campus in Raleigh on Monday.
ABC 11 shared a video of Harris being greeted by the Shaw drumline, marching band and cheerleaders following her speech on its Twitter account Monday evening. Shaw University was the first of multiple stops in Wake County for Sen. Harris, which she recognized as one of the United States' first Black landmarks of higher education in the post-Civil War era.
She also acknowledged that her speech took place in Estey Hall, which was the nation's first university building built to educate black women, ABC 11 reports.
Sen. Harris' appearance in Raleigh touched on numerous subjects including the Supreme Court, what's at stake in the 2020 United States Presidential Election and the Affordable Care Act, in which she claimed President Donald Trump's intention to overturn was based on feelings toward former President Barack Obama.
"Getting rid of the Affordable Care Act will take us backward to a time where you could charge a woman more for her health care than you can charge a man just because she's a woman," Sen. Harris said via ABC 11. "Getting rid of the Affordable Care Act will take us backward to a time when pregnancy could be considered a pre-existing condition. "This relentless obsession with over turning the Affordable Care Act is driven entirely by a blind rage toward President Obama."
Harris' appearance at Shaw University was followed by a visit to a "Sister to Sister meets Shop Talk" roundtable, which featured Black North Carolinians and focused on the importance of voting to affect change, ABC 11 reports.
The state of North Carolina is expected to be targeted by both former vice president and current Democratic presidential nominee Joe Biden and President Donald Trump leading up to the November 3 presidential election, with polls currently projecting Biden to have a slight lead over Trump.
Last week, Biden made his first campaign appearance in North Carolina at a Black economic summit. Biden's wife, Dr. Jill Biden, held a virtual meeting with working parents in North Carolina earlier this month, which focused on challenges parents face while balancing a work schedule with helping their children with virtual classes amid the COVID-19 pandemic.
In 2016, President Trump won North Carolina and his campaign has reportedly said it will be a must-win state in order to be re-elected, ABC 11 reports. Trump and Vice President Mike Pence have both made several visits to North Carolina in recent weeks, which included a rally in Winston-Salem on September 8, as well as stops in Charlotte for the Republican National Convention and Asheville to meet with North Carolina farmers hours later last month.