Union Projects Unauthorized Biden-Harris Sign On Cleveland's Terminal Tower
By Kelly Fisher
September 29, 2020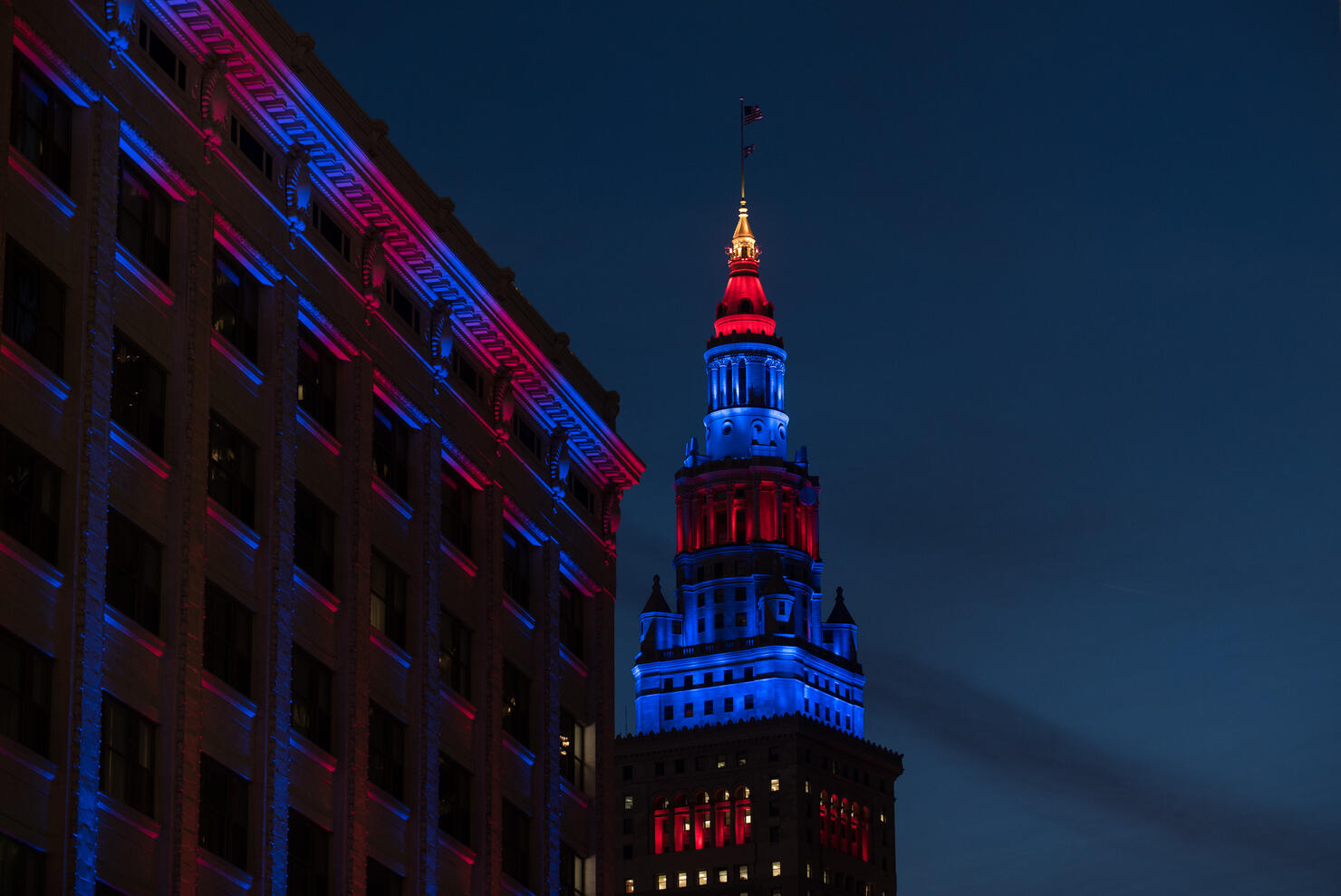 Tuesday morning (September 29), an unauthorized presidential endorsement was projected on the Terminal Tower, hours before the first debate between President Donald Trump and Democratic opponent Joe Biden in Cleveland.
The United Steelworkers Union is apparently responsible for projecting a "Biden-Harris" campaign light into the Terminal Tower, a Cleveland landmark that often displays lights, including to support causes, for holidays and other occasions.
The union said it first aimed to project the sign onto the Rocket Mortgage FieldHouse, News5Cleveland reported Tuesday.
Douglas E. Price III, CEO of the group that owns the Terminal Tower, confirmed that the projection wasn't authorized and told the station that the group doesn't endorse a candidate.
"It saddens me that someone would hijack Terminal Tower for political purposes. K&D Group supports many good causes with our lighting displays. We always strive to be non-political," said Price in a statement to the station.
The United Steelworkers Union tweeted several photos of the Terminal Tower lighting project, tagging local journalists. The union also tweeted a photo of the Rock & Roll Hall of Fame and Museum with the same Biden-Harris light. The Rock Hall has not publicly responded to the political lighting project.
The United Steelworkers Union's lighting project comes shortly after artist-driven campaigns enacted nine anti-Trump billboards around Cleveland.
The debate will start at 9 p.m. ET, broadcast from Case Western Reserve University in Cleveland. The debate, hosted by Fox News host Chris Wallace, is expected to run approximately 90-minutes, covering the Supreme Court vacancy, COVID-19 and other topics.
Polls show that about 74% of voters are expected to watch Tuesday's debate.