Hattie B's Bringing Nashville Hot Chicken To Dallas In 2021
By Anna Gallegos
October 2, 2020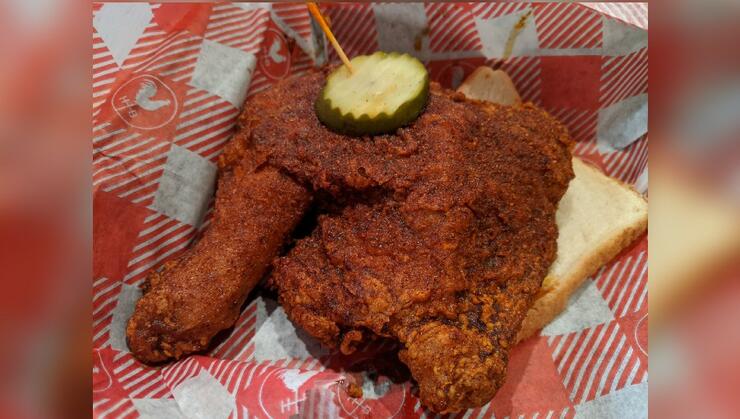 Dallas is going to be a whole lot spicier next year. Nashville-based chain Hattie B's plans to open its first Texas location in Deep Ellum in 2021.
Hattie B's will be moving into 3000 Main Street with a spot that will be big enough to sit 200 people.
"We want to be in vibrant neighborhoods that bring people from all over the city to enjoy our hot chicken and cold beer and some good times," Nick Bishop Jr., co-founder of Hattie B's, said in a written statement. 
Despite it being a Tennessee invention, hot chicken isn't new to Dallas. Palmer's Hot Chicken, Lucky's Hot Chicken, and Chirps Chicken Shack all ready serve up this style of spicy fried chicken.
If you've never had it, hot chicken is buttermilk fried chicken covered in cayenne pepper and other spices. Just like Texas barbecue, it's served with a side of pickles and white bread, but you can get it as a sandwich, too.
The story behind the chicken is that it was created about 80 years ago by a Nashville woman seeking revenge on a cheating lover. After her man was out one Saturday night without her, the woman decided to add some extra hot spices to his fried chicken that he ate the next day, according to The Tennessean. It didn't work because the recipe lives on to this day.
Photo: Jeremy Thompson / Flickr
Chat About Hattie B's Bringing Nashville Hot Chicken To Dallas In 2021