Harris, Pence Clash Over Coronavirus In Vice Presidential Debate
By Halle Harris-Smith
October 8, 2020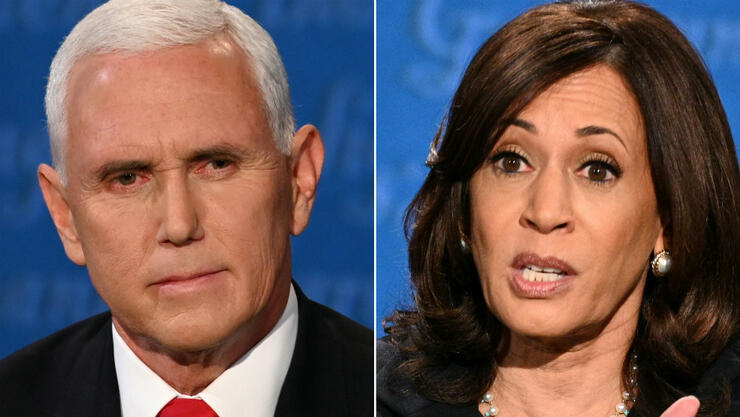 California Senator Kamala Harris and Vice President Mike Pence met in Salt Lake City on Wednesday (October 7), for the first and only Vice Presidential debate of 2020.
While 12-feet apart, the two faced-off in what has been called the most important VP debate in American History. Moderated by Susan Page of USA Today, the debate covered various topics including the coronavirus pandemic, President Trump's health, climate change, the Breonna Taylor case, the Supreme Court, and more.
See the highlights below.
Harris on what a Biden administration will do to control coronavirus.
After calling the Trump administration's response to the coronavirus pandemic "the greatest failure of any presidential administration in the history of our country," Harris detailed Biden's plan for a national strategy for contact tracing and implementing a plan to ensure that the COVID-19 vaccine is free for all.
Pence on why the U.S. death toll is higher than any other wealthy country.
"When you look at the Biden plan it reads a awful lot like what President Trump and I and the task force have been doing every step of the way. [...] It looks a little like plagiarism."
Pence on the White House rose garden event that became a super spreader of the coronavirus.
"My wife and I were there. Many of the people there were tested for coronavirus. It was an outdoor event, which all of our scientists advice. President Trump and I trust the American people to make choices in the best interest of their health."
Kamala Harris on if she'd get the COVID-19 vaccine.
"If Dr. Fauci, if the doctors tell us that we should take it, I'll be the first in line to take it, absolutely. If Donald Trump tells us we should take it, I'm not taking it."
Pence on if voters deserve to know the health of the President.
"The American people have the right to know the health and wellbeing of their president and we'll continue to do that."
Harris on the need for transparency from the president and his administration.
While discussing the need for transparency from the President, Harris noted Trump's recently revealed tax records, saying, "Donald Trump paid $750 in taxes. When I first heard about it, I literally said, 'you mean $750,000?' And it was like, no, $750." She also brought up the fact that Trump is in $400 million in debt. "When we say in debt it means you owe money to somebody and it would be really good to know who the president of the United States … owes money to because the American people have a right to know what is influencing the president's decisions," Harris added.
Pence on what Trump has done for the U.S. economy.
"On day one, Joe Biden's going to raise your taxes. [..] They want to abolish fossil fuels and ban fracking, which would cost hundreds of thousands of jobs in the heartland. Joe Biden wants to go to the economic surrender of China."
Harris on climate change.
"Joe understands that the west coast of our country is burning. [...] Joe sees what's happening on the gulf states, which are being battered by storms. Joe has seen and talked with the farmers in Iowa, whose entire crops have been destroyed because of floods. So Joe believes in science. [...] We have seen a pattern with this administration, which is, they don't believe in science."
Pence on climate change.
"I'm very proud of our record on the environment and on conservation. According to all the best estimates, our air and land are cleaner than any time ever recorded. And our water is among the cleanest in the world. [...] The climate is changing. The issue is what's the cause and what do we do about it? [...] With regard to hurricanes, the national oceanic administration tells us that there are no more hurricanes than there were 100 years ago."
Pence on if he'd implement a ban on abortions in his state of Indiana if Roe v. Wade is overturned.
Pence first spoke about how "badly" Harris treated Justice Kavanaugh when he was a SCOTUS nominee and how he hoped Harris would treat current SCOTUS nominee Amy Coney Barrett better. He also questioned Harris on democrats' alleged plan to stack the Supreme Court if Barrett is named a justice.
Pence later addressed the question about Roe v. Wade possibly being overturned, saying, "I would never presume how Judge Amy Coney Barrett would rule in the Supreme Court, but we'll continue to stand strong for the right to life."
Harris on the possibility of Roe v. Wade being overturned.
"There's the issue of choice and I will always fight for a woman's right to make a decision about her own body. It should be her decision and not that of Donald Trump and the Vice President."
Pence on if justice was served in Breonna Taylor's case.
"I trust our justice system."
Harris on Trump's refusal to condemn white supremacists.
"We are talking about an election in 27 days where last week, the President of the United States took a debate stage in front of 70 million Americans and refused to condemn white supremacists...America you deserve better."
Pence on if Trump would commit to a peaceful transfer of power.
Pence wouldn't commit to a peaceful transfer of power.
Photo: Getty Images
Chat About Harris, Pence Clash Over Coronavirus In Vice Presidential Debate