Mindy Kaling Welcomed A Baby Boy: 'It's News To A Lot Of People'
By Emily Lee
October 9, 2020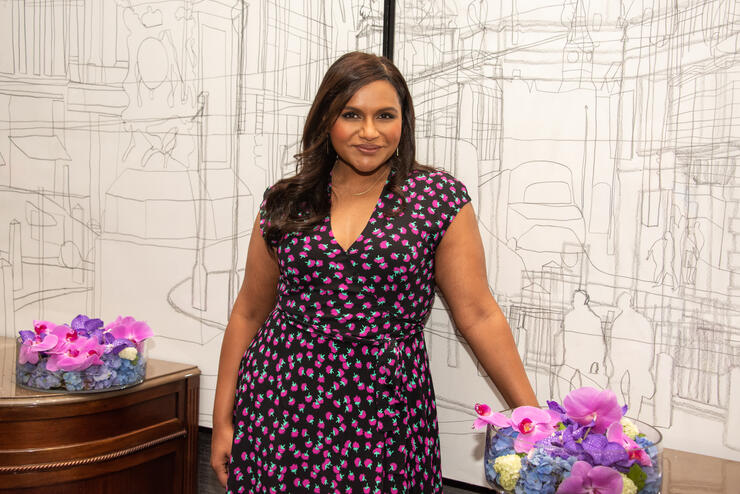 It's a boy!
On Thursday (October 8), Mindy Kaling dropped some major news during an appearance on The Late Show with Stephen Colbert. The TV mogul welcomed a baby boy last month after a completely secret pregnancy. "I'm telling it for the first time now, it feels so strange. But I gave birth to a baby boy on September 3," Kaling said.
Host Stephen Colbert said what all his viewers (and fans of Kaling) were thinking: "No one even knew you were pregnant!" With a laugh, Kaling told the late night host, "I know! I know! This is news to a lot of people. It's true."
Kaling welcomed her son on September 3 and shared that his name is Spencer Kaling. The 41-year-old multi-hyphenate talent is also mom to 2-year-old Katherine Kaling, whose nickname is Kit. Just as she did with her daughter, Kaling has decided to keep the identity of her son's father private.
In June 2019, Kaling spoke to Glamour about her lifelong dream of becoming a mom. "I always knew I wanted to be a mom, but I would have put it off and put it off. I'm happy that it happened when it did," she said of Kit's arrival. "I would have put it off indefinitely. I've seen firsthand the heartbreak of women who have waited to get pregnant [and then it doesn't happen]. For me, my relationship with my mother was such an integral part of my life. Thinking back on our relationship is still such a huge source of my happiness day-to-day, so I'm so grateful for having Katherine."
More recently, the actress spoke to People about what it's been like to be in quarantine with a 2-year-old for seven months. "My child was supposed to start preschool this year. And we were so excited. She was going to go to this school that I love," she said. "Now I have the writers' rooms filling up for two of my shows on Zoom, while I'm also leading my child through her day-long preschool. I'm so lucky because I have help. I'm at home all the time, and I don't want to eat takeout every single night. I have to be a full-time single parent who has to make the money for this household. So it's been challenging."
Despite the challenges, though, Kaling is grateful for the extra time she got with he daughter this year. "A lot of the stuff I thought was going to drive me crazy about being cooped up with a 2-year-old for seven months has actually bonded us really close together," she said.
Congratulations to Mindy and Kit on their newest family member!
Photo: Getty