Jason & Brittany Aldean Transformed Their Barn for Her Brother's Wedding
By Taylor Fields
October 12, 2020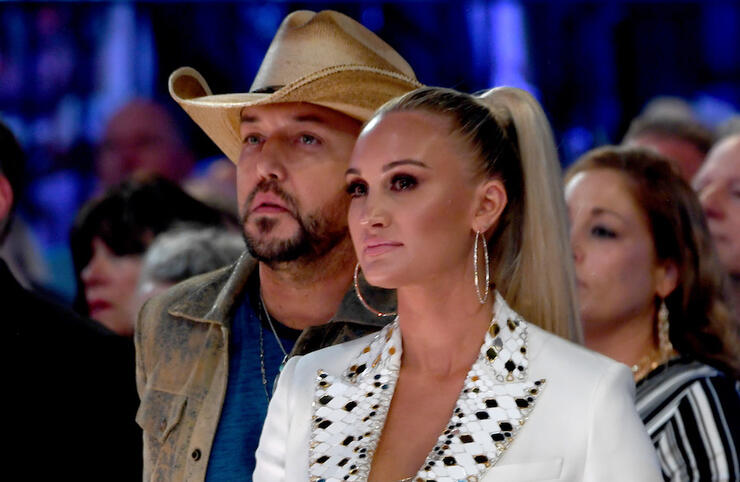 As Tennessee experienced the remains of Hurricane Delta over the weekend, nothing was going to stop Brittany Aldean from giving her younger brother Hunter and his new wife Rachel a beautiful wedding.
Jason and Brittany Aldean hosted their intimate nuptials at her estate and transformed their barn into a gorgeous venue to say "I do," exchange vows and share a day full of love with family and friends. On her Instagram, Brittany shared a video of the barn draped in satin champagne drapes hung up around the room. On either side of the aisle were just two rows of chairs, and in the front stood a beautiful wood hexagon structure with flowers.
Brittany wrote along with the barn-turned-wedding venue tour, "No hurricane was going to stop my baby brother's wedding from being beautiful! We converted the barn full of tractors and equipment into a beautiful wedding space (Swipe to see) and our back porch into an enchanted forest. I'm still shocked how gorgeous it ended up being." She added, "What a special weekend it was."
Jason's brother-in-law, singer/songwriter Chuck Wicks, officiated the ceremony, and according to Brittany, made everyone "laugh and cry."
Brittany also shared some photos of her and Jason's toddler son Memphis dressed up in an adorable beige suit. She wrote along with it, "My baby put on a tux for the first time yesterday for my brother's wedding and my heart could barely stand it. I wish I could relive these moments over and over."
Jason and Brittany Aldean recently moved in to their gorgeous mansion over the summer after the couple spent time building their dream home. Brittany has been sharing shots of the new Aldean residence on Instagram, showing off many of the home's gorgeous rooms, including their kids' rooms, kitchen, her amazing shoe closet, their backyard oasis, playroom where their "baby band practices," and more.
Chat About Jason & Brittany Aldean Transformed Their Barn for Her Brother's Wedding