Dunkin' Just Added Spicy Ghost Pepper Donuts To Its Menu
By Emily Lee
October 15, 2020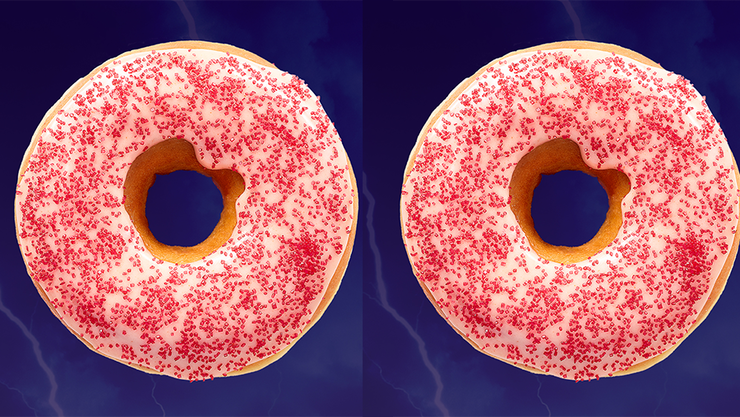 Dunkin' is showing off its spicy side.
On Wednesday (October 14), Dunkin' announced a new menu item like nothing its ever released before—the Spicy Ghost Pepper Donut. This hot new item is a classic yeast donut ring, topped with a strawberry flavored icing that features "a bold blend of cayenne and ghost pepper, and finished with red sanding sugar for a sizzling look," according to a press release.
"Halloween looks a little different this year, and so do our donuts. While our classic bakery offering has plenty of crave-worthy treats, we're excited to show our spicy side with a donut that packs a touch of heat with something sweet and can be enjoyed any time of day," Jill Nelson, Vice President, Marketing Strategy at Dunkin', said in a statement."With our scary-good lineup of the Spicy Ghost Pepper Donut, Halloween DIY Dunkin' Donut Decorating Kits, and fan-favorite Spider Donut, Dunkin' is here to help our guests keep their Halloween spirit alive this season."
Not only is Dunkin' rolling this out to stores nationwide, it's also calling on First We Feast's Hot Ones host Sean Evans to taste test the Spicy Ghost Pepper Donut. In a special episode of Hot Ones set to debut on Monday (October 19), Evans will be in the one in the infamous hot seat. He'll have to answer hard-hitting questions while trying the Spicy Ghost Pepper Donut.
The Spicy Ghost Pepper Donut will be only be available for a limited time at participating Dunkin' restaurants nationwide until December. Are you brave enough to give it a try?
Photo: Dunkin'
Chat About Dunkin' Just Added Spicy Ghost Pepper Donuts To Its Menu