Garth Brooks Announces Release Date For 'Fun' And 'Triple Live Deluxe'
By Blake Taylor
October 19, 2020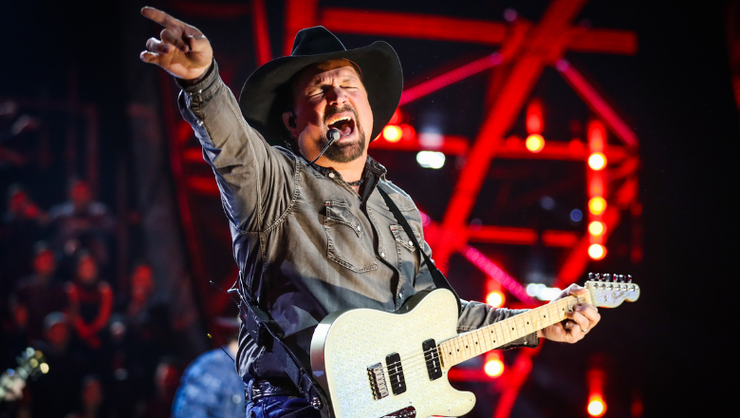 Garth Brooks will release his highly-anticipated new studio album, Fun, on November 20.
The new album will feature a total of 14 songs including Brooks' recent duet with Blake Shelton, and a cover of "Shallow" with Trisha Yearwood. Additionally, Brooks' Top 20 single from 2018, "All Day Long" and "Stronger Than Me," which he performed at the 2018 CMA Awards, are both on the album.
"The title of the album was sparked because making it has been such a fun process to go through," Brooks previously shared of the album title. "Being able to go in and out of the studio while being on the tour, working with the same guys, it's been amazing."
Also due out on November 20 is the deluxe edition of Brooks' Triple Live album. The collection will feature 30 songs recorded during the three and a half year "Garth Brooks World Tour with Trisha Yearwood" and the record-shattering "Stadium Tour." Fans will have six different versions of Triple Live Deluxe to choose from, each including the same songs but different album covers.
Find out where you can get a copy of Fun and Triple Live Deluxe here.
News of Brooks' upcoming album arrives just days after the country star was honored with the Icon Award at the 2020 Billboard Music Awards. Brooks received the award from previous winner Cher, who listed his numerous accomplishments, calling him a "true music legend and friend."
During his acceptance speech, the country legend thanked Cher as well as several other important people in his life. "Cher, getting to hold the award that you got makes me feel cool- and cool is never a word I would use to describe me," Brooks joked. "If I had to think of one person or one entity, it would be God Almighty, for through him all things are possible."
He also thanked "the love of my life," his wife of 15 years, Trisha Yearwood. as well as hi his three daughters, whom he shares with ex-wife Sandy Mahl. "I will love you for all my time on this planet," he said, adding, "Country radio, you gave me this! To all those people who fill those stands, thank you! Thank you for my life!"