Derailed Train Crashes Through Station, Stops On A Large Whale Sculpture
By Bill Galluccio
November 2, 2020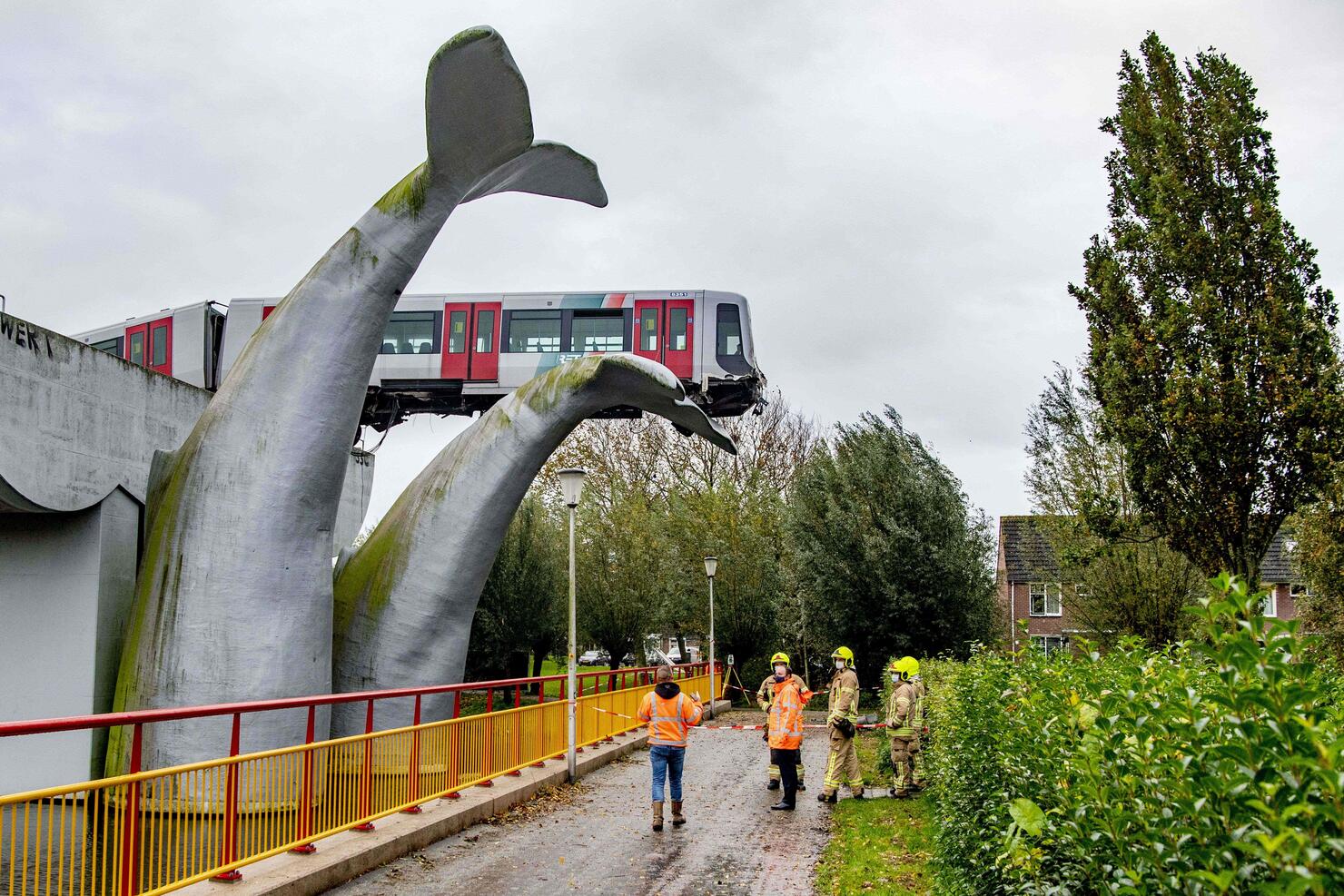 A subway train in the Netherlands derailed as it entered an above-ground station in the city of Spijkenisse. Local authorities said the train "shot through on approach" to De Akkers station around 12:30 a.m. local time.
As the train careened off the tracks, it came to a stop on top of a giant whale sculpture that rises out of the water around the station. When first responders arrived, the front car of the train was teetering on the tail of the whale statue about 25 feet above the ground.
"It's like the scene of a Hollywood movie," said Ruud Natrop, a spokesman for safety in the Rotterdam-Rijnmond area, according to the New York Times. "Thank God the tail was there."
The only person on the train at the time was the driver, and he was unharmed in the crash. He was taken to hospital for an evaluation before he was questioned by the police about the circumstances of the crash. Natrop said that the initial investigation revealed that the driver did nothing wrong and that investigators are trying to determine why the safety systems designed to protect the train failed.
Maarten Struijs, the architect who installed the plastic whale statue 20 years ago, told CNN he was shocked that the train did not damage the statue.
"I was surprised. I didn't expect this. Buffers are always strong enough," Struijs said. "So, I am looking forward to the results of the investigation of this crash."
Officials are also trying to figure out how to safely remove the train. Recent rainfall and high winds are complicating attempts to get the train down from its perch.
"Yeah, it's dangerous. At the moment, it's stable, so that's good, but it's a risk," Carly Gorter, who also works for the Rotterdam-Rijnmond regional safety authority, said. "If the wind is blowing very hard, that's a risk."
Photo: Getty Images