'Jeopardy!' Executive Producer Details Alex Trebek's Final Days
By Hayden Brooks
November 10, 2020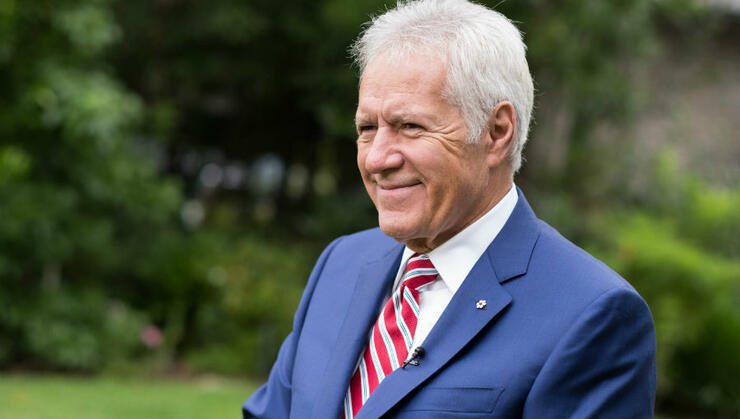 Jeopardy! host Alex Trebek's final day before passing away on Sunday (November 8) was peaceful.
In an interview with Entertainment Tonight, Jeopardy! executive producer Mike Richards shared details about the beloved TV icon's last day with his family. "He had a nice final day. He was out on his swing that he loved with his wife and surrounded by family," Richards said of Trebek's time with wife Jean. "It was a very peaceful day, there were laughs, and then he went to sleep."
As you know, Trebek died after a lengthy battle with pancreatic cancer at the age of 80. He is survived by his wife of 30 years, as well as their two children, Emily, 27, and Matthew, 30.
"If you know Alex, he did everything that perfectly and even his last day was done that perfectly. I just love that he had a nice, a good last day," Richards continued. "Ultimately, his family came back into town. He was surrounded by everyone and I think he knew that it was his time. He was very at peace with that."
Richards explained that he had been in contact with Trebek throughout the last week of his life. "I spoke to Alex Tuesday. He said, 'I'm not doing great, I'm not sure if we're gonna be able to tape Monday and Tuesday,'" he recalled. "I said, 'That's OK, you just let me know how you're doing.'"
Soon after, Trebek's health took a turn for the worse. "Friday, he isn't feeling good, but he's talking about taping not this week, but next week," he added. "It was Friday, he said that his son should fly back in, which he did on Saturday. I knew Saturday that things had taken a turn." 
You can catch Trebek in his final episode of the ABC game show on Christmas Day.