Saints Reportedly Expect Drew Brees To 'Miss Some Time' Due To Injury
By Jason Hall
November 16, 2020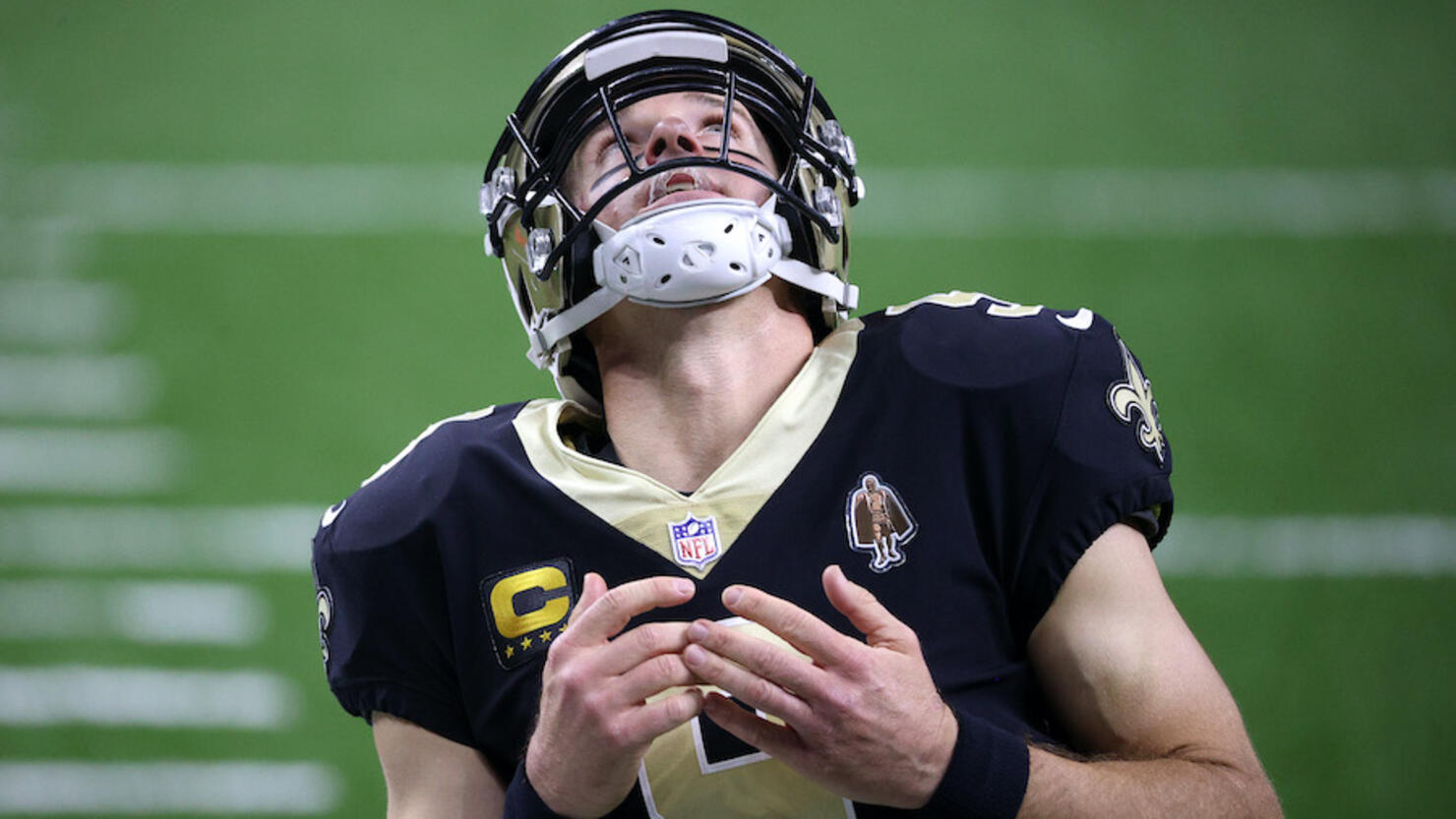 New Orleans Saints quarterback Drew Brees is reportedly being evaluated for an injury sustained during Sunday's 27-13 win against the San Francisco 49ers.
Brees suffered a rib contusion and will have an MRI on Monday, NFL Network's Ian Rapoport revealed on Twitter Monday morning. Sources told Rapoport and NFL Network colleague Tom Pelissero the Saints are preparing for the former Super Bowl MVP to "miss some time" while he makes a full recovery.
Brees took a hard hit from 49ers defensive tackle Kentavius Street during the second quarter of Sunday's win, which resulted in a roughing-the-passer penalty that gave New Orleans a first down inside the red zone.
#Saints QB Drew Brees suffered a rib contusion in yesterday's game, and he'll have an MRI for cartilage damage today. But sources tell me and @TomPelissero that New Orleans is bracing for Brees to miss some time to fully heal.

— Ian Rapoport (@RapSheet) November 16, 2020
The veteran remained in the game after the hit, but backup Taysom Hill took over at quarterback while Brees lined up at wide receiver. Hill stayed in shotgun formation for the next play and Brees left the field to throw passes on the sideline with a staffer, NOLA.com reports.
Brees re-entered the game on the next play and handed the ball off to running back Alvin Kamara for a touchdown. He once again returned to the field to lead the Saints on a two-minute drill before halftime, completing 5 of 6 passes, including a touchdown to Kamara.
However, backup Jameis Winston took over in the third quarter after Brees realized he'd be unable to return while going through warmups. Head coach Sean Payton said Brees' injury on Sunday was "probably going to be the first time in 15 years that it was significant enough like he felt like he couldn't function in the second half," NOLA.com reports.
Brees said he felt cramping/stiffening "was a good way to put it," and believed it was "probably not just one" rib. The veteran quarterback also dealt with a right shoulder injury prior to Sunday's game, which he confirmed he was dealing with earlier in the week, NOLA.com reports.
Brees was initially listed on the Saints' injury report for a right shoulder ailment on November 4 and limited in practices since, including all three leading up to the game against San Francisco last week. Last season, Brees missed five games due to a torn ulnar collateral ligament (UCL) in his right thumb.
Winston, a former No. 1 overall NFL draft pick in 2015, completed 6 of 10 passes for 63 yards in Brees' absence on Sunday.
Photo: Getty Images