Justin Bieber Kicks Off American Music Awards 2020 With Shawn Mendes
By Emily Lee
November 23, 2020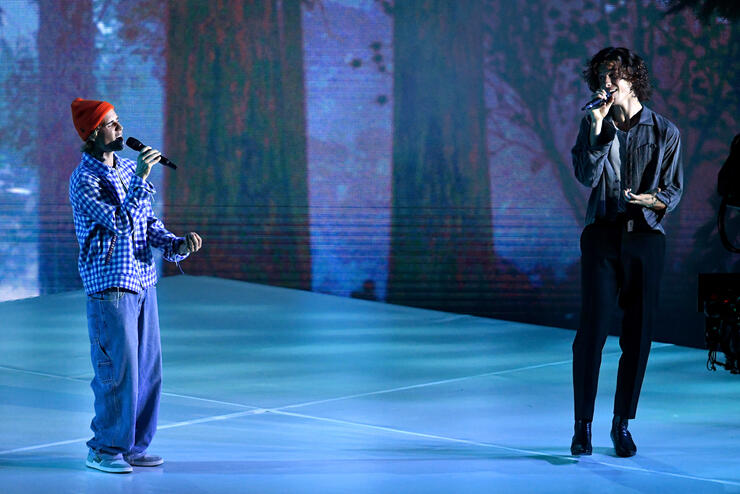 Justin Bieber kicked off the American Music Awards on Sunday (November 22) with a little help from Shawn Mendes. Needless to say, these two are definitely a tough act to follow.
Bieber initially took the stage on his own to perform his recent singles 'Holy' and 'Lonely.' After he wrapped up his first track, Mendes joined Bieber on the AMAs stage to perform their first eve collaboration 'Monster.' The song is the latest song off Mendes' upcoming album,Wonder, which comes out on December 4.
In a recent interview with VMAN, Mendes opened up about how 'Monster' came to be. "It's about how society wants to put celebrities up on a pedestal, but as much as they want to do that, they want to celebrate the fall. It was a time when I was really afraid of my industry and afraid of my craft and afraid of everything," he explained.
"I called Justin and said, 'I have this song and it means a lot to me. If it means something seriously to you and you want to put something very real on it, please be a part of this with me.' And he did," Mendes continued. "Since then, we have become closer than ever. Sometimes I think that music comes along for a bigger reason, which, for me in this case is to create a song to inspire people, but to also create a friendship that was never there before." Mendes' friendship with Bieber was evident during their performance, as well.
In addition to opening the show, Bieber is nominated for four awards, including Artist of the Year, Favorite Pop/Rock Male Artist, Collaboration of the Year and Favorite Song — Country for '10,000 Hours.'
Photo: Getty