Marquez Valdes-Scantling Received Death Threats After Overtime Fumble
By Bill Galluccio
November 23, 2020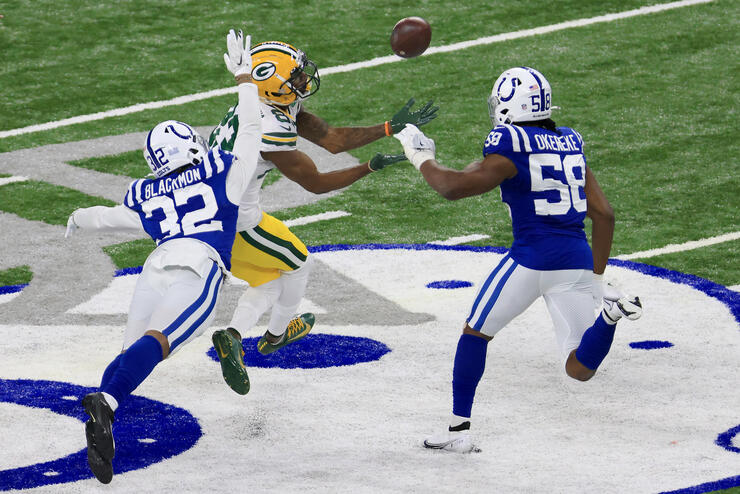 Marquez Valdes-Scantling's first career fumble came at the worst time for the Green Bay Packers. On the second play of overtime, Indianapolis Colts defender Julian Blackmon knocked the ball out of his hands, and it was recovered by DeForest Buckner on the 29-yard line.
The Colts ran three plays and then kicked a game-winning 39-yard field goal to secure a 34-31 victory.
After the game, the Packers didn't blame Valdes-Scantling for the loss.
"I know he's really hurting right now," Packers coach Matt LaFleur said. "He made so many plays for us and not only in the pass game but in the run game, stuff that you guys probably don't even notice that we're not getting the yardage that we get if he's not blocking his ass off."
Packers quarterback Aaron Rodgers said that he hasn't lost confidence in Valdes-Scantling, who has a history of dropping passes.
"I have a lot of love for Marquez," said Rodgers. "I see the guy every single day, see how much he cares about it. It happens, unfortunately. A lot of it is fundamentals, carrying the ball, but I've had my fair share of fumbles. It was just bad timing, obviously. ... But that stuff happens. He made a big play at the end of regulation to kind of get us going on third-and-10. Disappointed for him, disappointed for us."
Football fans weren't so forgiving. After the game, Valdes-Scantling said that he received death threats for giving up the ball to the Colts.
"Death threats over a football game? Jesus you people need help. It's actually sick. I'm good. My team got my back," he tweeted.
Photo: Getty Images