Meghan Trainor Curated Her Own Guest DJ Station on iHeartRadio
By Taylor Fields
November 25, 2020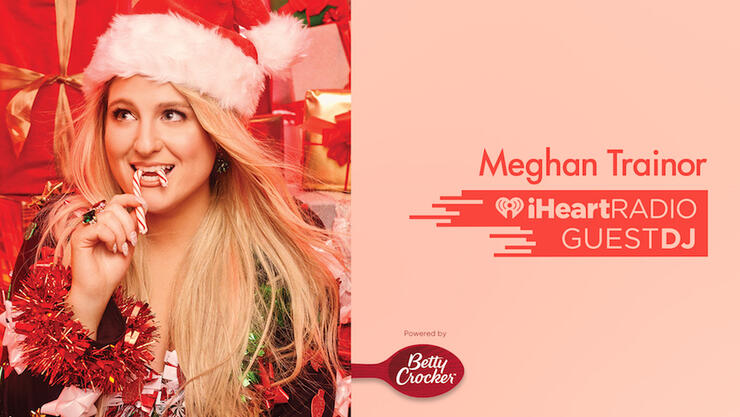 It's been a big year for Meghan Trainor — she released her third album Treat Myself, revealed she's pregnant with her first child with husband Daryl Sabara, and most recently, dropped her first-ever Christmas album, A Very Trainor Christmas. To celebrate, the star curated her own Guest DJ station on iHeartRadio powered by Betty Crocker.
On her exclusive holiday-themed station, fans can hear music from A Very Trainor Christmas, including "Holidays" featuring Earth, Wind & Fire, "My Kind of Present," "Christmas Party," "My Only Wish" and more. They can also hear some of Megan's favorite Christmas songs from artists like *NSYNC, Mariah Carey, Stevie Wonder and Jackson 5, among others.

Fans can also hear Trainor talk about her music, some of her favorite songs, and some of her favorite Christmas memories. Check out the highlights below.
One of Meghan's go-to Christmas songs to perform around the holidays is Justin Bieber's "Mistletoe." She explained, "I truly think that this next song is one of the greatest Christmas songs of all time. I'm a Belieber. I've always been a Belieber. This is from Justin Bieber, it's called 'Mistletoe.' And fun fact, this is what I always perform at Christmas time when people are like, 'Can you play us a Christmas song?' I always pick up my ukulele and I sing this song because it's so catchy and adorable and sweet."
Although Meghan is waiting on her greatest gift of all to arrive, her baby boy, she recalled one of her most memorable gifts she got as a kid that ended up lasting her a decade! She remembered, "One year, Santa got me an amazing keyboard. All I ever wanted was to play music like my dad, and Santa got me a keyboard. And I remember running to my parents' room being like, 'Dad, dad, hi, got a keyboard from Santa.' And my dad tried to mess with me and said, 'No, no, no, that's for me, that's not for you. Santa got that for me.' And I literally was going to cry because I'm so spoiled and loved. And, he ended up just telling me the truth. And then, I was like, 'It really is mine.' So that was the best keyboard that lasted me like 10 years. I loved that keyboard."
Listen to more of Megan Trainor's music and favorite songs on Meghan Trainor Guest DJ Powered by Betty Crocker.