How To Watch Dua Lipa's 'Studio 2054' Virtual Concert
By Taylor Fields
November 25, 2020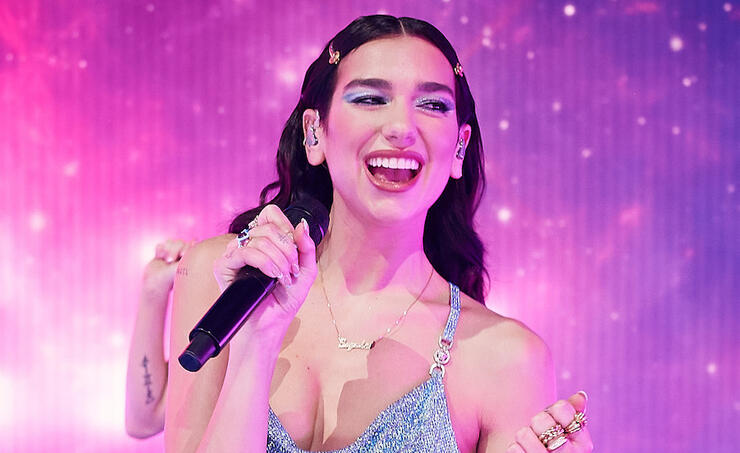 Dua Lipa is set to to put on a concert for fans like never before during her upcoming "Studio 2054" on November 27th.
Filmed in a massive warehouse, "Studio 2054" promises custom built sets including "surreal tv shows, roller discos, ecstatic raves, trashy rocker hang outs, voguing ballrooms and diva style dressing rooms," according to a press release. The show will also see Dua joined by special guest musicians, including Miley Cyrus, Kylie Minogue, J Balvin and more, in addition to dancers, skaters, acrobats and more as she performs songs from her 2017 debut album, 2020's Future Nostalgia, as well as her latest Club Future Nostalgia.
Fans can tune in and watch "Studio 2054" on Friday, November 27th at 9pm ET/6pm PT (in the US) via LIVENow. Tickets are on sale now on LIVENow and Ticketmaster. 
During an Instagram Live announcing the show, Dua explained of the virtual concert:
"It's something that people have never seen me do before. I'm really looking forward to it. I've been rehearsing a lot. And, it's been actually six to seven hours every day, I've been working on this. And basically, I guess I got the idea because of lock down and everybody's at home, and I feel like we're all longing for a little bit of human connection that I wanted to bring to a performance. But it's actually, in fact, nothing like what you would see me do live, because there's no way I'd be able to do this in the sense of doing it on stage — we're doing this in a massive warehouse. We're going to bring custom sets. It's going to go from like ecstatic raves, to surreal TV shows, to roll the discos. It's a full thing that we've already been working really hard on. And we're going to give you choreography, we're going to give you outfit changes, we're going to give you guest performances. It's really going to be a blast. It's a real multi-dimensional live show."