Snoop Dogg's Cali Red Wine Gets An AR Upgrade
By James Dinh
November 25, 2020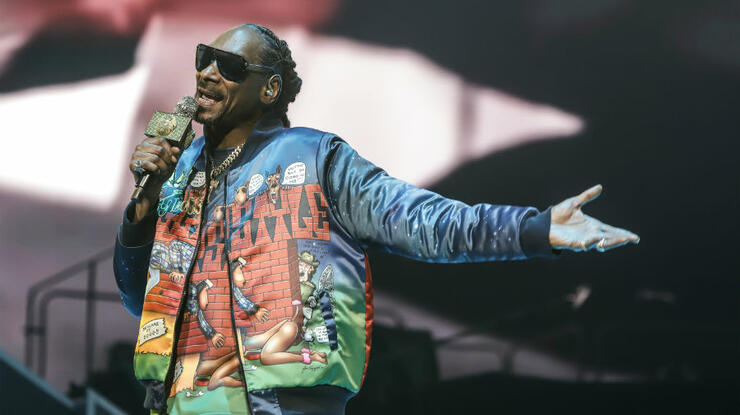 Snoop Dogg's 19 Crimes Cali Red arrived this summer with an AR enhanced label, but the rapper's wine recently received an impressive upgrade just in time for the holiday season.
In conjunction with web-based AR platform 8th Wall, Snoop Cali Red comes alive when users scan the Living Wine Labels app via iOS and Android through their smartphone's camera. The nifty trick, otherwise known as "Ask the Doggfather" and made possible by augmented reality studio Tactic, allows users to engage in the experience with a voice-activated prompt, resulting in a mini holographic version of the rapper appearing in front of the bottle via your device. To bring Snoop to 19 Crimes Cali Red, the rapper was filmed on green screen in California amid the COVID-19 pandemic.
"Snoop is overjoyed with the success of his Cali Red Wine and is excited to continue to work in collaboration with Treasury Wine Estates to innovate," Nick Adler, Snoop's Manager, said in a statement. "The 'Ask the Doggfather' AR launch is the next step in this journey and he can't wait to share this project with his fans and help spread some holiday cheer!"
Meanwhile, Peter Oberdorfer, president of Tactic, admitted that the venture has exceeded their expectations. "Our app-based Snoop Cali Red AR experience performed beyond our wildest dreams, so this time we re-engaged with the 19 Crimes team with the ambition to hit an even wider audience," Peter Oberdorfer, president of Tactic, in a statement. "At the same time, we were already blown away by what we were seeing from 8th Wall's technology. In a way, this was the perfect use case -- we knew that both 19 Crimes and Snoop Cali Red had huge augmented reality audiences from the native app, so what better venue to launch to an even wider audience? Alongside the team at Cashmere, we came up with an experience that emulates a Magic 8-Ball, allowing a hologram of Snoop Dogg to respond to a host of questions."
Snoop Cali Red is priced at $12 per bottle and available nationwide. Click here to learn more about the "Ask the Doggfather" experience!