Kane Brown Performs Medley Of Hits During Dallas Cowboys Halftime Show
By Blake Taylor
November 27, 2020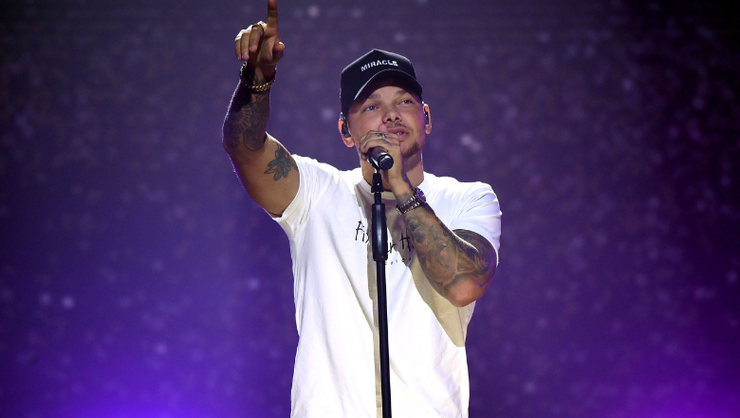 Kane Brown brought a medley of hits to the AT&T Stadium in Texas for the pre-recorded Dallas Cowboys halftime show on Thanksgiving Day.
The country star kicked off the show with a rendition of his single, "Heaven," followed by a soulful performance of his unifying track, "Worldwide Beautiful" alongside an orchestra and choir. Brown then gave a solo performance of his Top 40 hit collaboration, "Be Like That," featuring Khalid and Swae Lee, before launching into "Lose It."
To conclude the set, Brown performed his No. 1 smash hit single, "What Ifs," featuring Lauren Alaina, followed by a slowed-down rendition of "One Thing Right," originally featuring Marshmello.
Ahead of the Thanksgiving Day halftime show, Brown turned to Instagram to share a video of himself taken during his visit to AT&T Stadium in Texas. In the clip, Brown shows off his athletic side as he attempts to make a field goal. See the full clip below.
The annual halftime show is a Cowboys' tradition, where fans are asked to donate to the Salvation Army's Red Kettle campaign. The funds raised through the Red Kettles are at risk this year due to COVID-19 and requests for help are at an all-time high, making this year's Red Kettle Kickoff more important than ever in providing shelter and meals for the homeless and hungry, Christmas toys for children and social service programs to millions of people in need.
"I'm thrilled to be a part of this year's Dallas Cowboys halftime show honoring The Salvation Army's Red Kettle Campaign," Brown explained ahead of his performance. "There were times growing up when my family did not have enough to eat, or a roof over our head, and today, there are so many people in need. 2020 has been a hard year, but every small act of generosity helps. I am honored to have the opportunity to bring awareness to the ways people can help during this holiday season and beyond."
Since teaming up 23 years ago in 1997, The Salvation Army and the Dallas Cowboys have helped raise over $2.7 billion for the Red Kettle Campaign.
Check out some behind-the-scenes footage from Brown's performance below.