Young Thug Faces Backlash For Disrespectful Andre 3000 Comment
By Regina Star
November 28, 2020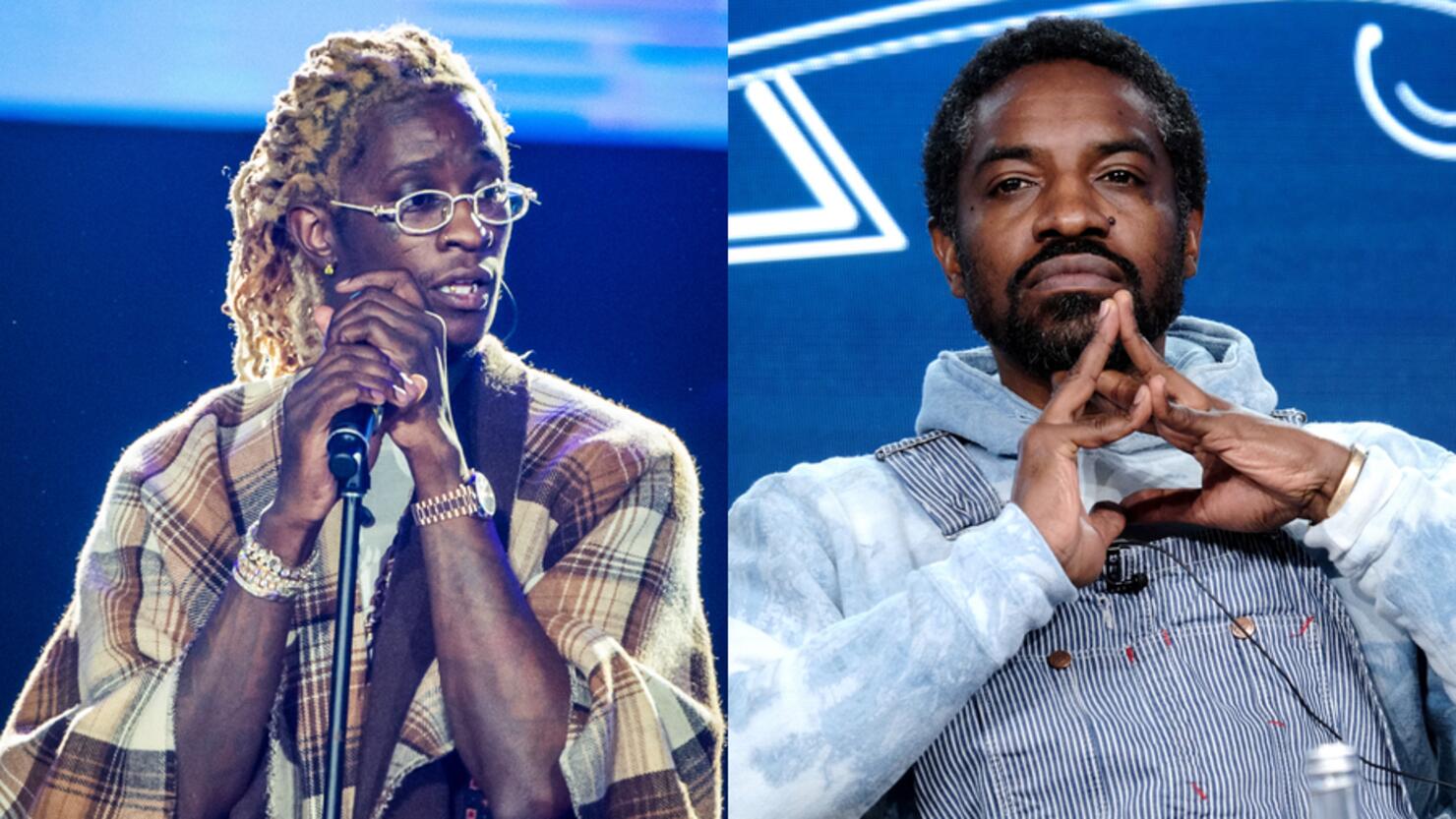 Young Thug is being dragged on Twitter, and Andre 3000 fans are leading the charge.
An interview with Thugger has gone viral on social media after OutKast followers caught wind of what many took as disrespect toward Dre. While speaking on T.I.'s Expeditiously podcast earlier this week, the 29-year-old rapper seemingly downplayed Dre's impact on hip-hop and went as far as to imply that the 45-year-old icon is stuck up.
The conversation began when Tip asked the "Hot" musician whether his infamous Jeffrey dress was inspired by Andre 3000 — who made similarly eccentric fashion statements during his prime — to which Thugger responded: "I only did that for my generation, though. I can't rap you two Andre 3000 songs. I ain't never paid attention to him. Never in my life."
Taken aback by the slight, T.I. challenged Slime's dismissal of Dre's influence and likened his greatness to that of Elton John, with whom the Atlanta native has also collaborated.
Young Thug's reply was even more bizarre: "But the difference between Elton John and Andre is – to simplify it – Elton John likes to kiss a—, and Dre likes his a— kissed."
Young Thug says he hasn't worked with Andre 3000 because he feels Dre looks down on the new generation.

I feel like Thug made that up in his head.

🤷🏿‍♂️🤷🏿‍♂️🤷🏿‍♂️

pic.twitter.com/NFWubhSACG

— Justin L. Hunte 🇺🇸🇺🇸🇺🇸 (@TheCompanyMan) November 27, 2020
Worse, Thugger based his disinterest in working with Andre 3000 on the uneducated claim that Dre doesn't embrace the new generation of rappers. This struck many fans as odd, especially considering a particular moment in 2016 when Dre name-dropped Thugger himself as being among the genre's new guard.
"Back in 2016 at Phife Dawg's funeral, Andre 3000 personally shouted out Young Thug when talking about the new generation of rappers changing the tide of music," one user captioned a tweet with the footage. "Let this show that EGO is the death of men."
The tweets didn't stop there. Three Stacks fans are livid — see more responses below.
Back in 2016 at Phife Dawg's funeral, Andre 3000 personally shouted out Young Thug when talking about the new generation of rappers changing the tide of music. Let this show that EGO is the death of men pic.twitter.com/PhNsOLSyuK

— LOCAL BLACK GIRL FOR HIRE (@IamNiaRae) November 27, 2020
Andre 3000 saying he's a fan of Young Thug, only for Thug to shade him is the most 2020 thing thus far.

— Fuze the Mc (@fuzethemc) November 27, 2020