F1 Driver Involved In Fiery Wreck On First Lap Of The Bahrain Grand Prix
By Bill Galluccio
November 29, 2020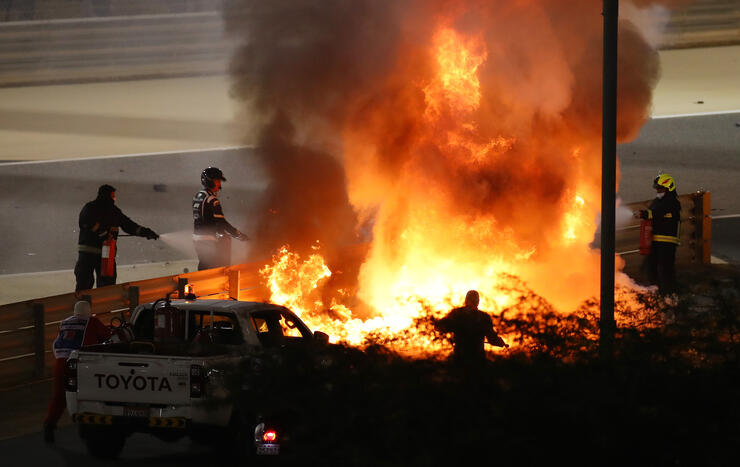 Formula One driver Romain Grosjean managed to walk away from a horrific, fiery crash during the opening lap of the Bahrain Grand Prix on Sunday (November 29).
Grosjean lost control of his car after making contact with Daniil Kvyat as he went around the third turn. His vehicle veered off the track and slammed into the barrier, bursting into flames. He hit the wall with enough force that his car was sheared in half.
Grosjean was trapped inside his burning vehicle for about 30 seconds and was able to climb out of the fiery wreck and vault over the barrier to safety. He walked over to an ambulance and was treated for burns to his hands, which he sustained when grabbing the metal barrier.
"It was a big surprise for us as well. We've never seen that much fire in 12 years," medical car driver Alan van der Merwe said. "Romain started to get out of the car himself, which was pretty amazing after an accident like that. It was a relief to see he was OK."
Grosjean provided an update on his condition and thanked the fans for the outpouring of support in a video shared on Twitter by the Haas F1 Team.
The race resumed following a lengthy delay. Lewis Hamilton went on to win, earning the 95th win of his career.
Photo: Getty Images