Get Your Mind Bright: How Colors Affect Mood On 'The Gratitude Diaries'
By Diana Brown
November 30, 2020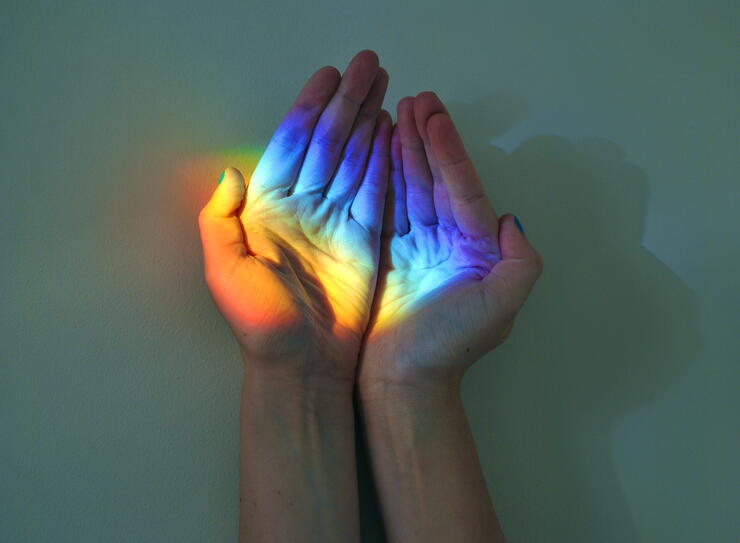 On The Gratitude Diaries, Janice Kaplan uses short, sweet episodes to give us practical advice for how to be happier. In this episode, it's all about color theory. As winter creeps in, human beings have always found ways to make the shorter, darker days a little brighter, filling winter with holidays centered around bright colors and lights. And as it turns out, there's real science behind this: Research has shown that schools painted bright colors have higher attendance and less graffiti; similarly, brightly painted workspaces result in friendlier, more alert employees. If life has been making you blue, it might just be time to change up the hues.
Janice points to the work of designer Ingrid Fetell Lee, who recently published a book called Joyful that explores the effect of our external environment on our feeling of joy. There's a reason most of us feel joy at seeing a rainbow in the sky or bright fireworks blooming overhead – color can actually activate the pleasure receptors in our brains. But even so, there's not a lot of color in adult life, Janice points out; we tend to dress in navy, beige, or black, and we decorate our houses in a similar fashion, painting our walls gray and buying neutral furniture. We see neutral colors as more sophisticated and adult, and maybe feel a little nervous about attracting attention with a colorful wardrobe. 
But it might be the key to turning your day around, Janice says, and maybe someone else's as well. Think about adding pops of color to your life here or there. Ingrid suggests painting the inside of a drawer or the back of the closet; Janice encourages us to buy a yellow sweater or an orange throw pillow for our gray sofa. It's such a small thing to do, but it can have a huge impact on our daily mood and the way we see the world. Hear more practical tips to make your day brighter on this episode of The Gratitude Diaries.
If you want to be sure you're listening to the podcasts everyone else is checking out, iHeartRadio has you covered. Every Monday, iHeartRadio releases a chart showing the most popular podcasts of the week. Stay up to date on what's trending by checking out the chart here. There's even a chart just for radio podcasts here, featuring all your favorite iHeartRadio personalities like Bobby Bones, Elvis Duran, Steve Harvey and dozens of others.
Photo: Getty Images