62-Year-Old Man Clinging To Capsized Boat Rescued After Being Lost At Sea
By Hayden Brooks
November 30, 2020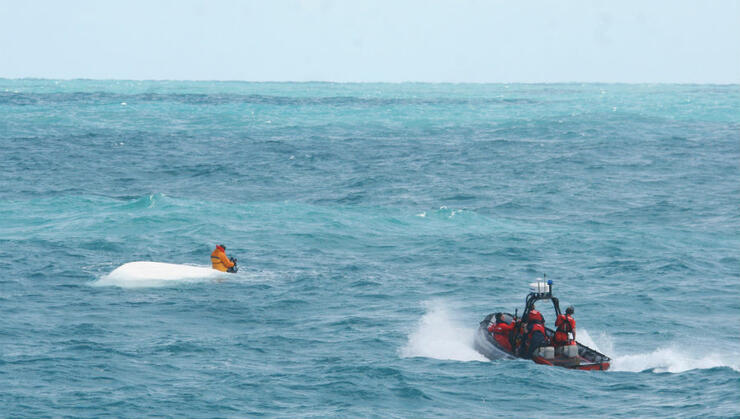 A 62-year-old man was discovered clinging to his capsized boat off the Florida coast on Sunday (November 29).
According to reports, Stuart Bee was seen holding onto his 32-foot vessel by the crew onboard the 225-foot-container ship Angeles around 11:40 a.m. about 86 miles off of Cape Canaveral. The hunt for Bee had started after he was reported missing on Friday morning. He had left Cape Marina that day, but was reported missing the next day after he had not returned from his typical overnight boating trip. In photos shared by the Coast Guard, Bee can be seen swimming away from his vessel and towards a life ring. Another shot shows Bee climbing aboard the container ship.
Capt. Mark Vlaun, the commanding officer of the Coast Guard's Jacksonville sector, shared his gratitude for everyone involved in the rescue mission. "Saving lives at sea is our highest calling," he said in a statement. "This is a truly incredible outcome that demonstrates the bond among all mariners and our community."
Meanwhile, U.S. Coast Guard Petty Officer Veronica Dunn-Depretis told ABC News said that Bee is lucky to be alive after the travesty. At time of discovery, it was reported that he was not injured. "He is OK. We're receiving reports from the motor vessel (Angeles) that there were no medical concerns," she clarified. "He was clinging to that when they came across him and they pulled him up on their vessel."