Dr. Fauci Says We May Not See Full Sports Stadiums Until Next Summer
By Bill Galluccio
December 1, 2020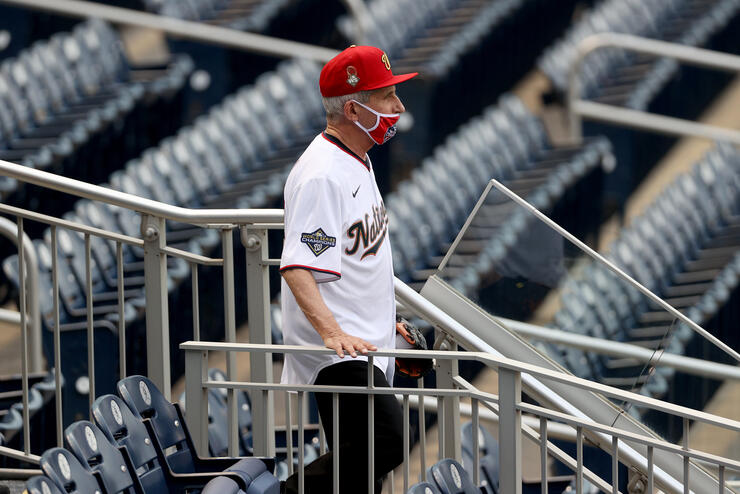 It could be a while before fans can pack sports stadiums again. The nation's leading infectious disease expert, Dr. Anthony Fauci, said that we may not see a stadium at full capacity until the end of next summer.
Dr. Fauci told Henry Bushnell of Yahoo! Sports that most people will need to be vaccinated against COVID-19 before officials can start lifting attendance caps at stadiums.
"We're gonna be vaccinating the highest-priority people [from] the end of December through January, February, March," Fauci said. "By the time you get to the general public, the people who'll be going to the basketball games, who don't have any underlying conditions, that's gonna be starting the end of April, May, June. So it probably will be well into the end of the summer before you can really feel comfortable [with full sports stadiums] – if a lot of people get vaccinated. I don't think we're going to be that normal in July. I think it probably would be by the end of the summer."
Dr. Fauci said people's refusal to get vaccinated could cause the pandemic-related restrictions to last longer.
"Having an efficacious vaccine in and of itself doesn't get us out of this difficult situation we're in," Fauci said. "But an efficacious vaccine that's widely utilized could get us to a point where we're really approaching normality."
"We could get there by the end of the summer, and as we get into the fall of next year," Fauci continued. But "if 50% of the people say, 'You know, I don't want to get vaccinated,' then it's gonna take considerably longer than that."
Dr. Fauci told Bushnell that he thinks it is possible that NFL stadiums will be at full capacity by the start of next season.
Photo: Getty Images