Pink's Daughter Reveals Amazing Singing Voice On 'Disney Holiday Singalong'
By Paris Close
December 1, 2020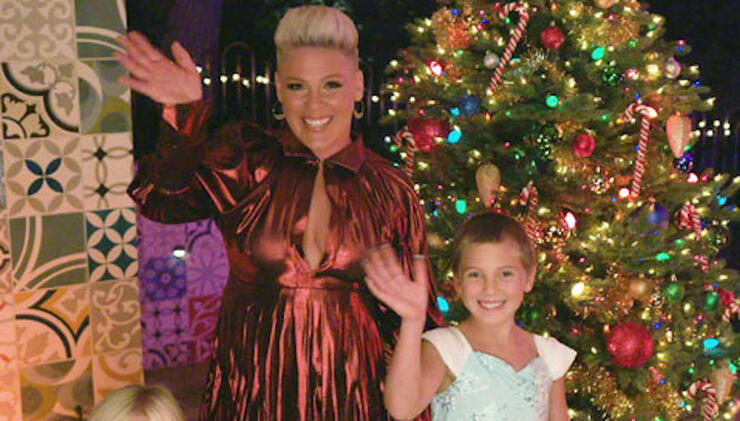 Pink's daughter helped her mommy bring some Christmas cheer to Disney Holiday Singalong.
The singer-songwriter was joined by her 9-year-old daughter, Willow Sage, for a delightful duet during the ABC special on Monday night (November 30). The mother-daughter duo performed "The Christmas Song" together, though it was Willow's outstanding star turn that really stole the show.
During the performance, Willow appeared by her mother's side, dressed in a pretty blue gown, as the 41-year-old musician delivered the opening number beside a Christmas tree and fireplace display as Disney productions played on a screen behind them.
"They know that Santa's on his way/ He's loaded lots of toys and goodies on his sleigh," Willow belts on the verse with her stunning vocal chops, before returning to sing, "And so I'm offering this simple phrase/ To kids from one to ninety-two."
"Although it's been said many times, many ways Merry Christmas to you," Pink sings in her powerful register to close the Nat King Cole classic, before waving over her 3-year-old son, Jameson Moon, to wave goodbye to audiences viewing from home.
As fans know, Pink shares both of her children with husband Carey Hart.
The annual Disney holiday event also featured several other performances from major musical acts, including BTS, who delivered "Santa Claus Is Comin' to Town"; Adam Lambert, who performed "Have Yourself a Merry Little Christmas"; and Katy Perry, performing "I'll Be Home for Christmas" and "Cozy Little Christmas."