KISS Has At least 150 Shows Rebooked For Its 'End of the Road' Tour
By Andrew Magnotta @AndrewMagnotta
December 3, 2020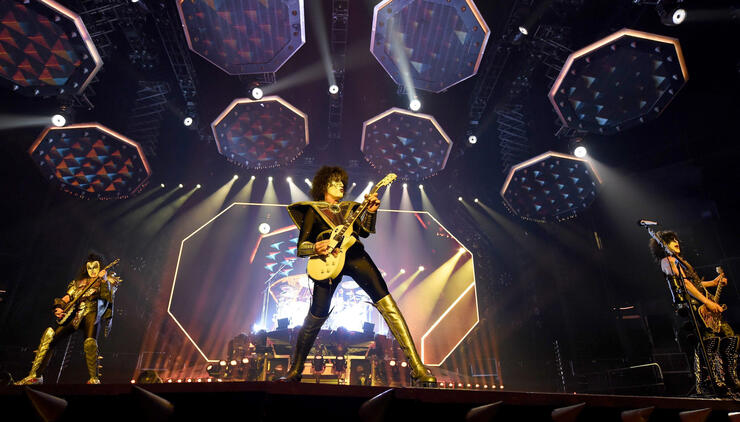 KISS co-founders Gene Simmons and Paul Stanley had long-planned to be retired by this time next year, but as with everything affected by the COVID-19 pandemic, their greener pastures will have to wait.
In a recent radio interview, Simmons revealed just how much more work Kiss has ahead of it before he and Stanley can hang up their stage gear and put away their makeup for good.
With COVID-19 vaccines finally coming to fruition, Simmons says he's confident that live concerts will return next year.
"We've already booked Europe outdoors. Most of the shows have already sold out. We start in summer," he said. "The vaccines are gonna be out there for everybody, oh, by January, February, March at the latest, but we're gonna be out there a few months after that. And we've literally got 150 cities booked."
Simmons and Stanley have been vocal for much of the year, urging people to comply with the Centers for Disease Control's recommended COVID-19 safety measures, like wearing masks and social distancing around people who are not members of your household. The duo also said in the spring that Kiss would not resume its tour until there was a COVID vaccine or a cure widely available.
Kiss announced last fall that its final concert was planned for July 17, 2021, in New York City. That date has been pushed back indefinitely. Simmons says the band played 110 cities before the pandemic-related lockdowns prevented it from going further.
While he's confident about when Kiss will resume its tour, he remains uncertain how long the rest of the 'End of the Road' tour will take to complete.
"We've got another hundred and fifty cities to go, and who knows how long, but some of the later ones are gonna be jaw-dropping," Simmons added. "You can't imagine what we've got planned — like, beyond... I said, 'No. We can really do that?' They said, 'Yup. Yup.' The political people said we can play there. And so there's gonna be stuff that's just gonna make you go, 'That's the coolest.'"
Among the most special dates is one at the "coldest place on Earth," Simmons said. He added that Kiss will be brining plenty of pyrotechnics along to stay warm.
Kiss will be back onstage as soon as December 31 in Dubai, with a fiery, COVID-compliant New Year's Eve celebration. The band announced the 'Kiss 2020 Goodbye' live concert and livestream last month.
Ahead of the event, Kiss has spent a fortune on safety measures and explosives in hopes of setting a Guinness World Record in pyro to say goodbye to one of the most challenging years in a century.
Photo: Getty Images