KISS Fans Can Watch Band's New Year's Eve Show In Person For Up To $25,000
By Andrew Magnotta @AndrewMagnotta
December 11, 2020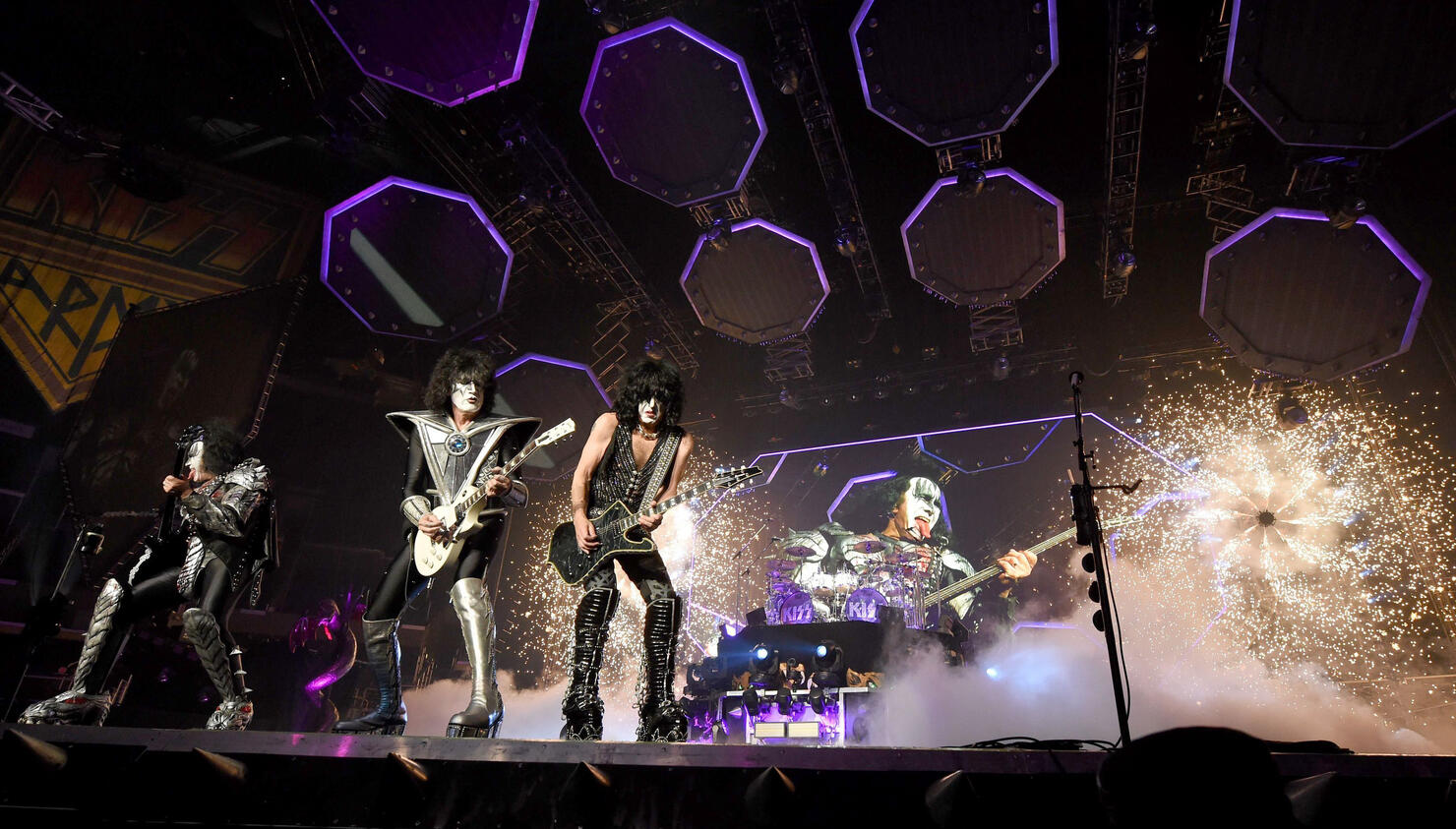 KISS's New Year's Eve concert at the Atlantis resort in Dubai will feature the band performing for a live audience for the first time since its 'End of the Road' tour was halted in March due to COVID-19 pandemic concerns.
The iconic rock band has taken extraordinary steps and spent millions of dollars to ensure the safety of band, crew and audience for the 'Kiss 2020 Goodbye' spectacular.
And now we know how close fans can get to the stage and what it will cost.
While hotel guests will have the option to book floor seating, most of the 'Kiss 2020 Goodbye' audience will be taking in the fireworks virtually from around the world or from rooms at the resort, either watching on television or from their balconies
The band's Double Platinum VIP Package - Terrace Suite runs $24,750. It's a 5-night vacation that includes the "most immersive KISS experience in the band's history," packed with limited-edition swag, a signed guitar and a number of rare up close Kiss opportunities, not the least of which is a private luxury balcony suite box to watch the show. Double Platinum guests will also be interviewed for the KISS 2020 Goodbye Movie and get their name in the credits.
The Black Diamond VIP Package costs $13,000. Again, fans will be treated to five-star service from the hotel and have the opportunity to watch the show from their balcony. The Black Diamond package includes a number of perks and some behind-the-scenes access.
Of course, most fans will not be making the trip to the United Arab Emirates and will be enjoying the concert with any of the virtual guest packages available. Those range in price from $39.99 for basic Live Stream Access to $999.99 for Live Stream Platinum VIPs.
Fans who have tickets to the band's postponed 'End of the Road' tour will have access to special offers to view the live stream.
Kiss has guaranteed a spectacle like none other, in a career based on spectacle. The band's stage alone is 250 feet long, and Kiss is hoping to set a Guinness World Record with its pyrotechnics.
"The best way to shut everybody up and get everybody to enjoy life right now is to make a big resounding noise and shake the heavens with some pyro," bassist Gene Simmons told Rolling Stone last month. "We play big. There's not a lot of subtlety in what we do."
The show's director confirmed the band is employing 400 crew members and spending somewhere around $10 million dollars to make the show a safe, successful revelry.
Photo: Getty Images