Graham Nash Gifted $800,000 In Handwritten CSNY Lyric Sheets To Neil Young
By Andrew Magnotta @AndrewMagnotta
December 28, 2020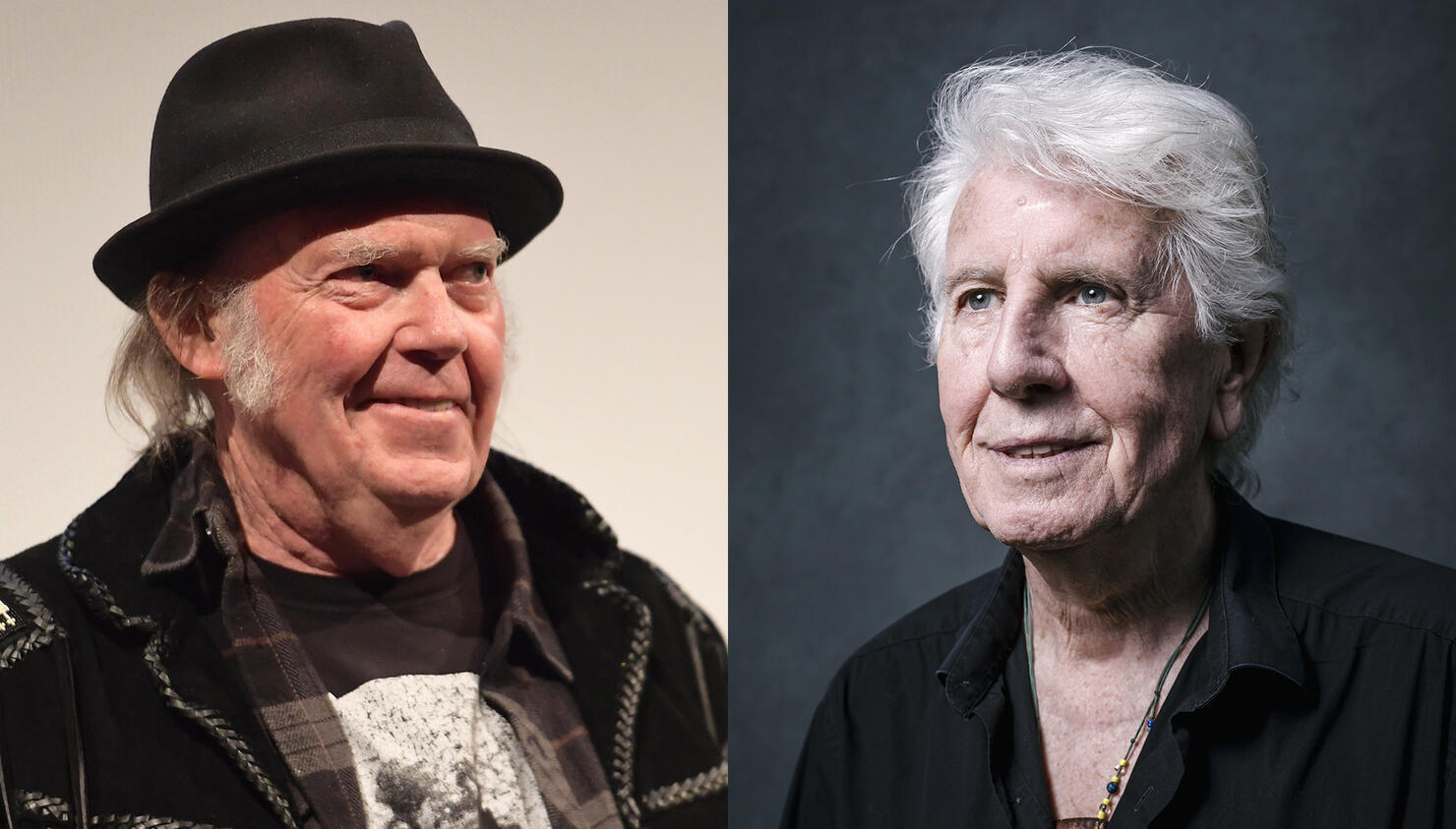 Rock memorabilia collectors have an unending interest in handwritten lyrics, so it's safe to assume that anyone in possession of such documents written by the likes of Neil Young would stand to make a lot of money from them.
Young himself wasn't the sentimental type for most of his career, so his longtime Crosby, Stills, Nash & Young bandmate Graham Nash inadvertently amassed a large collection of documents pertaining to the group's history.
Nash recently revealed in an interview with Uncut that he had collected at least 28 handwritten lyric sheets by Young over the years that had either been given to him or were left behind at studios. About a year ago, Young asked his former partner if he still had the sheets, explaining that he planned to sell his archives to a university in his home country of Canada.
Instead of asking for compensation, Nash gave up the documents without a second thought.
"I'd valued them at $800,000 but I realized that Neil wanted them, I realized how much money I had made because of his talent, and I gave them to Neil with a good heart," Nash said. "If Neil wanted his stuff back, he could have it."
While Nash famously resisted bringing Young into CSN at first, he has frequently praised the singer-songwriter in recent years, noting that Stephen Stills, David Crosby and himself had no idea what a titan Young would become when they brought him into their group.
Nash praised Young's balled "Only Love Can Break Your Heart," which was written about his breakup with Joni Mitchell.
"It's such a beautiful song," he said. "...and it was incredibly important for me to hear what Neil had said because he was dead right, it is only love that can break your heart. We are strong, mankind, but these love things can really trip you up. He was only 24 when he wrote that. It's incredible how prolific he was."
Young's output was so unwieldy, it even cost CSNY a major hit.
In 1970, Nash's song "Teach Your Children" was climbing up the charts when the band pivoted to instead put its weight behind promoting Young's song about the Kent State massacre "Ohio," believing the song was too relevant to delay.
"We thought it was way more important to tell American people that we're killing our own children for their God-given right to protest what their government is doing in their name...and when those students went to school to protest, they ended up dead," Nash told Q104.3 New York in 2017. "We thought it was more important for people to know that then for us to have another hit record."
Photo: Getty Images