WATCH: AEW Honors Brodie Lee With 'Dynamite' Tribute Show, 10-Bell Salute
By Jason Hall
December 31, 2020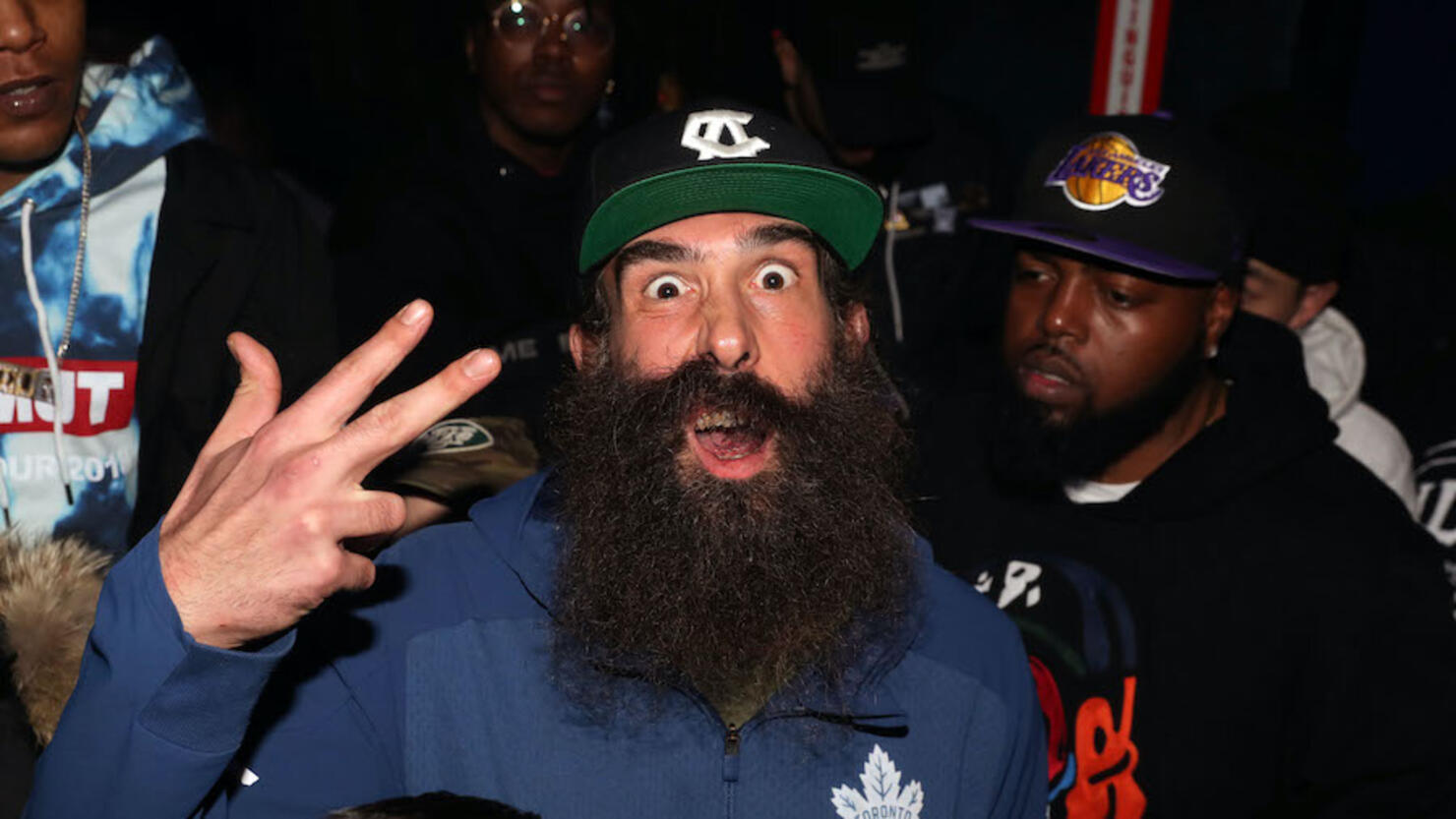 All Elite Wrestling dedicated Wednesday's (December 30) episode of its weekly TNT show 'Dynamite' to Jon Huber, who wrestled for the company under the ring name, Mr. Brodie Lee, prior to his death last Saturday (December 26.)
The program opened with play-by-play man Jim Ross saying, "It's Wednesday, you know what that means," which Huber famously tweeted for each day of the week, prior to a 10-bell salute with Huber's wife, Amanda, and sons, Brodie and Nolan, joined on-stage with the entire AEW roster.
Wednesday's episode of Dynamite featured a full match card in which members of Lee's faction, "The Dark Order," faced and defeated villain wrestlers.
The show also included a run-in by Huber's former WWE tag-team partner Erick Rowan, now known as Erick Redbeard, who assisted Dark Order members John Silver and Alex Reynolds, as well as their tag-team partner for the night, "Hangman" Adam Page, from an outnumbered attack.
After the match, Redbeard returned to the ring and held up a sign that said, "Goodbye for now, my brother. 'See you down the road," while shedding tears.
The show ended with Amanda Huber and Brodie Jr. in the ring alongside AEW vice president Tony Khan and executive vice president Cody Rhodes, who Huber, 41, defeated to win the TNT Championship in August.
Brodie Jr., 8, placed his father's wrestling boots in the middle of the ring before Khan awarded him with the TNT Championship and dubbed him "champion for life." Earlier this week, AEW color commentator Tony Schiavone confirmed the company signed Brodie Jr., also known as "-1," to a legitimate contract on his What Happened When podcast.
On Monday, WWE honored Huber, who had previously wrestled for the company under the ring name "Luke Harper" for seven years, during an episode of RAW with a memorial graphic to start the show, as well as numerous friends and former colleagues making references to the late wrestler by using his moves and catchphrases.
AEW announced Huber's sudden passing in an official statement shared to its social media accounts on Saturday (December 26) night.
"The All Elite Wrestling family is heartbroken. In an industry filled with good people, Jon Huber was exceptionally respected and beloved in every way -- a fierce and captivating talent, a thoughtful mentor and simply a very kind soul that starkly contradicted his persona as Mr. Brodie Lee," the statement read.
"Jon's love for his wife Amanda, and children Brodie and Nolan, was evident to all of us who were fortunate to spend time with him, and we send our love and support to his beutiul family, today and always. Jon's popularity among his peers and influence on the wrestling world was worldwide and transcended AEW, so this loss will be felt by many for a long time.
"We were privileged at AEW to call Jon Huber a brother, a friend and one of our own."
Huber's wife confirmed her husband "passed surrounded by loved ones" after battling a non-COVID-related "lung issue" in a heartbreaking tribute on her Instagram account.
"My heart is broken," Amanda Huber wrote. "The world saw him as the amazing @brodielee (fka Luke Harper) but he was my best friend, my husband, and the greatest father you would ever meet. No words can express the love I feel or how broken I am right now."
Huber debuted in AEW in March under the "Brodie Lee" ring name -- which he had previously used during the majority of his professional wrestling career prior to signing with WWE in 2012 -- and revealed himself as the "Exhalted One" and leader of the mysterious "Dark Order" faction. Huber went on to challenge AEW World Champion Jon Moxley at the Double of Nothing pay-per-view event in May, which ended his two-month long undefeated streak before later defeating Rhodes, then known simply as Cody, to win the AEW TNT Championship, becoming the second person to win the title in company history, which he held until November 7, 2020.
Huber, a native of Rochester, New York, had previously wrestled for WWE from 2012-19, debuting as a member of the "Wyatt Family" faction in the NXT developmental brand in November 2012 and later as a member of WWE's main roster in July 2013. Huber was a former WWE Intercontinental champion, as well as a multiple time WWE SmackDown Tag Team champion and one-time NXT Tag Team champion during his tenure with the company.
"WWE is saddened to learn that Jon Huber, known to WWE fans as Luke Harper, passed away today at age 41," the company said in an official statement shared on its website. "Known as both Luke Harper and Brodie Lee in the ring, Huber found success in every stop of his sports-entertainment career, as his soft spoken yet imposing presence helped him create countless awe-inspiring moments in the ring."
Many of Huber's former wrestling colleagues also shared personal tributes after news of his death on Saturday, which can be found here.
Photo: Getty Images