Nicki Minaj Gushes Over 'Gorgeous' Baby Gifts From Ariana Grande
By Regina Star
January 1, 2021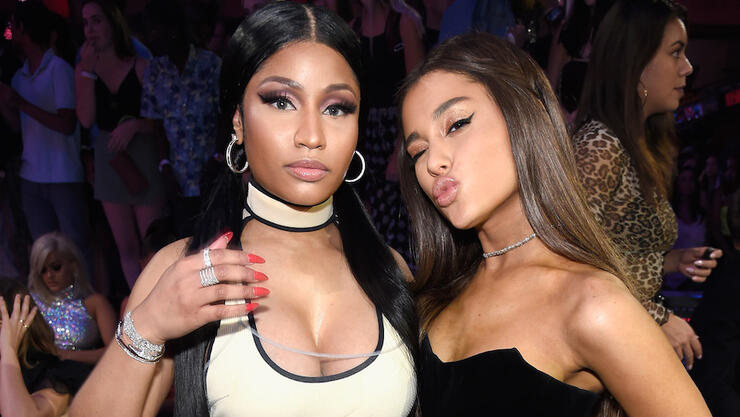 Nicki Minaj received some "gorgeous" baby gifts from her gal pal Ariana Grande.
The "Starships" rapper took to social media before the new year to share some intimate details about giving birth to her first child with her husband, Kenneth Petty, in September 2020. Not only that, but the new mommy also gushed over the sweet presents she got from her friend, Ari, and shouted Ciara out for sharing "helpful" advice.
"I was actually in labor all night but all they did was let me sleep until I dilated far enough to push. The epidural didn't hurt either. They numbed me up real good. So I took my ass right to sleep," Minaj revealed in a fan Q&A session on Twitter.
"As soon as I started scooting over to him in the bed I just felt the water start coming out," she continued. "I was weirdly calm & I quietly said 'omg, I'm about to be in labor' He was very scared & I was laughing @ him."
As Barbz know, Minaj and Petty welcomed their first child together just a year after tying the knot in October 2019.
Minaj also dished on how her celebrity girlfriends reacted to her pregnancy, adding that Grande "sent some gorgeous gifts" and thanked the "Goodies" pop star and mother-of-three for being "sooooooo helpful" with giving her new mommy advice.
What's more, the "Chun-Li" artist seemingly teased that she'll be revealing her little man to the world in time. When asked if her son favors her or Petty's looks more, Minaj replied, "I'll let you b the judge of that."
Well I was actually in labor all night but all they did was let me sleep until I dilated far enough to push. The epidural didn't hurt either. They numbed me up real good. So I took my ass right to sleep 😴 https://t.co/E7xVNFSszc

— Mrs. Petty (@NICKIMINAJ) December 30, 2020
Yes. I was butt naked. Just got out the shower & I asked him to rub my back. As soon as I started scooting over to him in the bed I just felt the water start coming out. I was weirdly calm & I quietly said "omg, I'm about to be in labor" He was very scared & I was laughing @ him. https://t.co/2FGBnQOp3T

— Mrs. Petty (@NICKIMINAJ) December 30, 2020