Protesters Storm The Capitol Building After Clashing With Police
By Bill Galluccio
January 6, 2021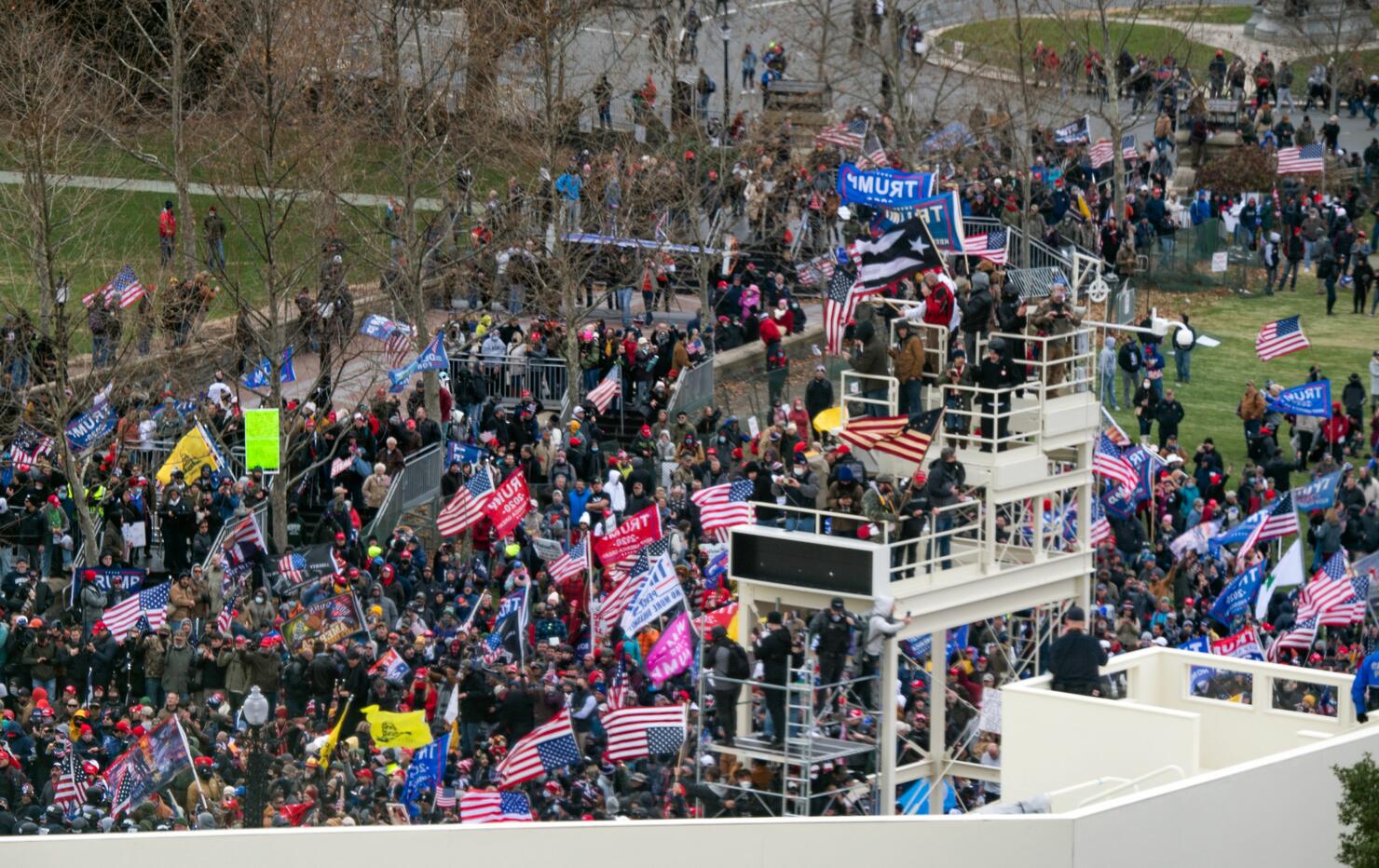 The U.S. Capitol was placed on lockdown as hundreds of pro-Trump protesters stormed the Capitol building on Wednesday (January 6). They clashed with police in riot gear and managed to breach the building.
The House and Senate were separately debating an objection to the Arizona electors when they were suddenly called into a recess. Staffers were told to take shelter in their offices. Vice President Mike Pence has been taken to a secure location. Lawmakers were evacuated from both chambers.
Some of the protesters were trying to break down the doors of the House chamber, and there were reports that pepper spray or tear gas was deployed in the Rotunda. A photograph from inside the House chamber showed officers with guns drawn securing the broken door as protesters tried to make their way inside.
One of the protesters managed to breach the Senate chamber and was photographed on the dais. He reportedly screamed, "Trump won that election!"
Multiple police officers were injured during the unrest and at least one required hospitalization.
Authorities are reportedly investigating suspicious packages near the Capitol, and the Cannon House Office Building and Madison Library of Congress Building were briefly evacuated due to bomb threats.
Authorities in Washington D.C. have instituted a 6 p.m. curfew and have asked for additional law enforcement assistance to deal with the escalating situation.
White House Press Secretary Kayleigh McEnany tweeted that President Donald Trump has ordered the National Guard to deploy to the Capitol.
"At President @realDonaldTrump's direction, the National Guard is on the way along with other federal protective services. We reiterate President Trump's call against violence and to remain peaceful," she wrote.
Mike Pence called on the protesters to leave the building.
"The violence and destruction taking place at the US Capitol Must Stop and it Must Stop Now. Anyone involved must respect Law Enforcement officers and immediately leave the building," he wrote on Twitter. "Peaceful protest is the right of every American but this attack on our Capitol will not be tolerated and those involved will be prosecuted to the fullest extent of the law."
According to WUSA reporter Lorenzo Hall, at least one person was shot. The details of the shooting are not immediately known, but a video showed a woman being taken away from the Capitol on a stretcher. She was transported to a local hospital, where she was pronounced dead.
Authorities found explosive devices located near the headquarters of the Republican and Democratic National Committees. According to the New York Times, the bomb squad destroyed a pipe bomb near the RNC headquarters and are working to identify the device found near the DNC headquarters.
Around 5 p.m. ET, law enforcement began moving the protesters out of the area ahead of the curfew. About 40 minutes later, authorities announced they had secured the Capitol Building.
It is unclear when Congress will continue their joint session to certify the results of the presidential election.
This is a breaking story.....
Photo: Getty Images