Grinning Man Caught On Camera Carrying House Lectern Arrested In Florida
By Zuri Anderson
January 11, 2021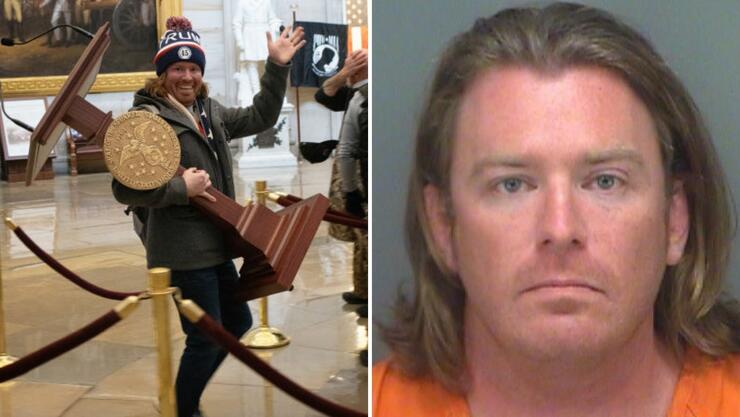 The man seen carrying a House lectern in a photo during the U.S. Capitol breach was taken into custody in Florida, according to NBC Miami.
Adam Christian Johnson of Parrish was arrested Friday night (January 8) and booked into the Pinellas County Jail on a warrant from the U.S. Marshal's office. A photo taken Wednesday (January 6) shows a man believed to be Johnson holding a lectern that reportedly belongs to House Speaker Nancy Pelosi. There's no word on whether he will face charges or not.
Reporters said Johnson is registered to vote in Manatee County and has no party affiliation. "I felt a little disassociated for a minute. It was almost like, it was surreal. I mean it was surreal. I wasn't surprised, but I was shocked," Allan Mestel, an acquaintance of the family, told reporters.
Other people featured in viral images from the attack on the Capitol, such as the "Zip Tie Guy" and the man who was photographed putting his feet on Pelosi's desk were taken into custody.
At least three people from Florida have been charged in the Wednesday riots and breach. Five people, including a Capitol Police officer, have died during the incident. "In addition, officials say a Florida firefighter has been placed on leave after photos surfaced of him participating in Wednesday's violent event," NBC Miami wrote.
Photo: Getty Images, Pinellas County Sheriff's Office