Have Soft Serve Ice Cream At Home Thanks To New Keurig-Like Machine
By Emily Lee
January 14, 2021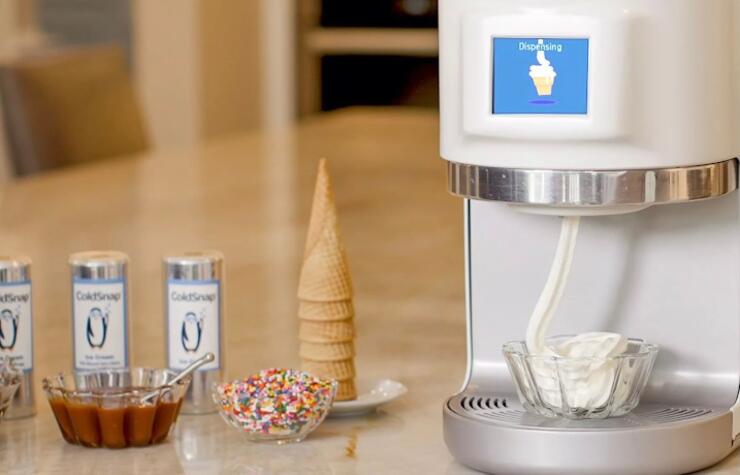 If you've ever wished you could enjoy a fresh serving of soft-serve ice cream at home, your dreams are about to come true. On Monday (January 11), Sigma Phase unveiled an exciting frozen treat system that will allow ice cream lovers to easily make soft-serve ice cream at home. The revolutionary device is called the ColdSnap.
Similar to the Keurig device, ColdSnap will use pod technology to make fresh soft serve ice cream in just 60-90 seconds. Not only does ColdSnap make soft-serve ice cream, but the device can also produce margaritas and smoothies.
Though the ColdSnap is only in its prototype stage at the moment, Sigma Phase revealed a number of details about the upcoming product. The pods are being designed to have a one-year shelf life and will come in dairy and dairy-free options. The pods will be made of aluminum, which means they will also be recyclable. The ColdSnap machine will read a built-in QR code on each individual pod to ensure the ice cream is made at the right temperature and consistency.
"This is challenging and requires significant development and engineering expertise," Matthew Fonte, the entrepreneur bringing this product to life, told CNN. "In the beginning, a lot of people didn't think it was [scientifically] possible to create ice cream like this in about a minute or so."
According to Fonte's interview with CNN, the ColdSnap will "simultaneously pull heat from the pod, creating a cooling effect on the liquid ice cream mix, and engages a part within the pod that churns the ingredients during the cooling process. Air is sucked into the can to make the required loft in the ice cream."
The ColdSnap is expected to be available for purchase sometime in 2022. The device will likely cost between $500 and $1,000, while the pods will cost between $2.50 and $3.00.
Photo: ColdSnap