Pete Wentz's Surprising Ties To Joe Biden Have Fall Out Boy Fans Impressed
By Paris Close
January 15, 2021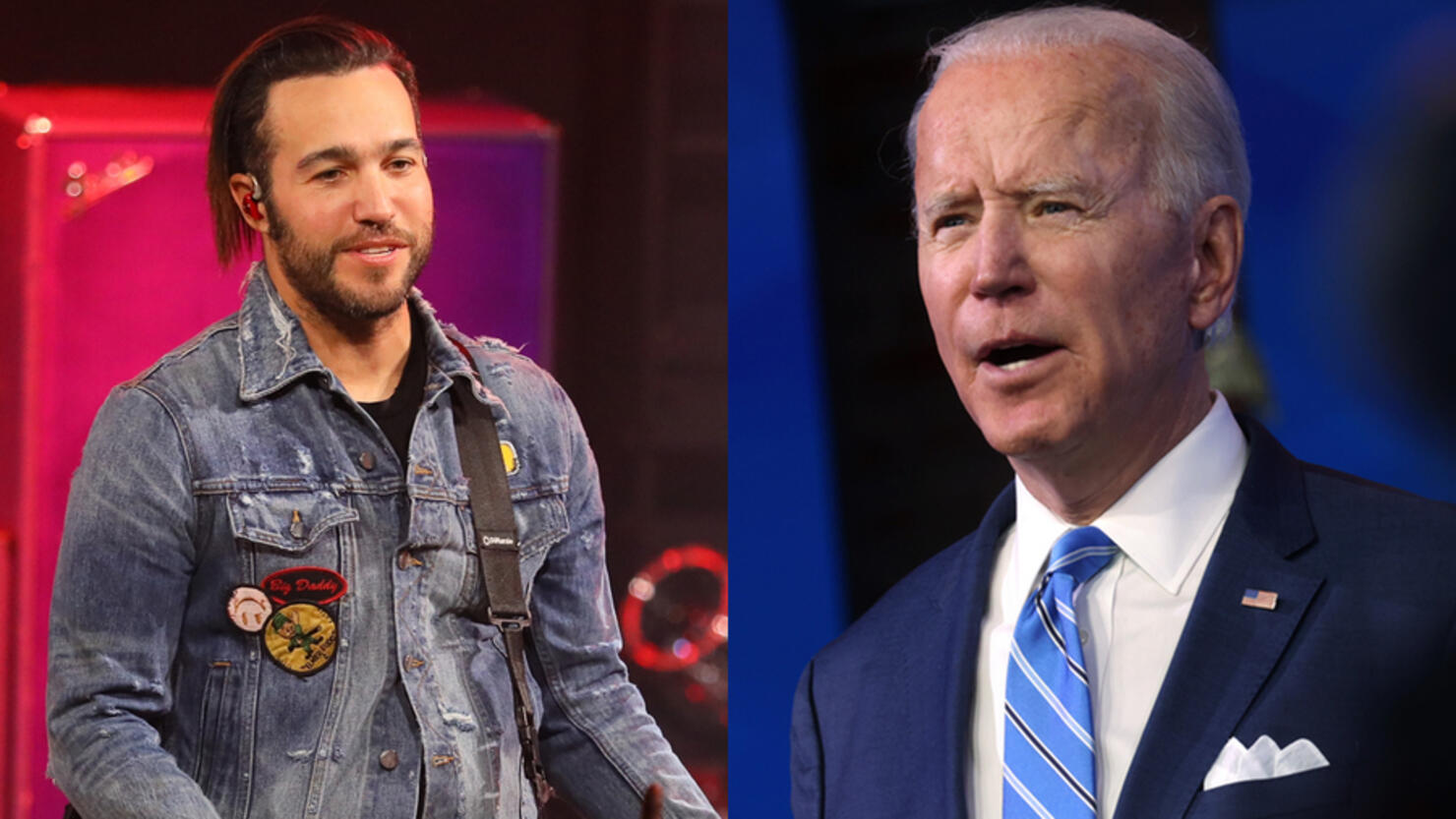 Fall Out Boy— and Pete Wentz for that matter — probably wouldn't be around were it not for Joe Biden.
Fans have been freaking out since learning about Wentz's surprising connection to the future POTUS after it was announced that his band would perform at Biden's "We the People" pre-inauguration concert event this Sunday (January 17).
One Twitter user was genuinely confused to see FOB on the performers' roster, whereas others privy to the lesser-known Wentz-Biden fun fact were enthused to explain. "Late to this but ... Fall Out Boy is playing the Biden inaugural concert?" the user tweeted, to which a fan replied: "Fun fact, Pete Wentz's parents met while working for Biden on his Senate campaign."
Yes, kids, it is true: Without Biden, your favorite band would not exist.
For context, some fans will remember when Wentz shared the revelation on social media after Biden's projected presidential victory this past November. "My parents met working for Joe Biden in the Senate in the 70s," the 41-year-old wrote at the time with a baby photo of him with his mom and dad.
He added, "To me he is a beacon of empathy, compassion and kindness. The times we live in call for a leader with these specific traits. Proud to call Joe Biden my president."
What seemed like considerably old news to some users came as a shock to other Fall Out Boy fans, who have been rejoicing over Biden's role in bringing the group — and Wentz — into existence.
"So joe biden is the reason pete wentz exists, thus why fall out boy exists, and now fall out boy is performing at biden's inauguration...life has come full circle," one user tweeted, as another dubbed the discovery as Biden's "single greatest contribution to society."
See more tweets reacting to the fun fact below:
so joe biden is the reason pete wentz exists, thus why fall out boy exists, and now fall out boy is performing at biden's inauguration...life has come full circle

— morgan 🦋 (@skeletalmorgan) January 14, 2021
duh Fall Out Boy wouldn't exist without Joe Biden (in case you somehow forgot Pete Wentz's parents met working on Biden's senate campaign) it's his single greatest contribution to society https://t.co/KP77u5W9yr

— Katie Minard (@KatieMinard) January 14, 2021
someone in the thread mention Pete Wentz's parents met stumping for Biden's first senate campaign which WOW and fair ok i get it on that front along with this https://t.co/7ROlWkdyhU

— Douglas Reyes-Ceron (@dreyesceron) January 14, 2021
Truly an excellent moment, as Fall Out Boy exists because of Joe Biden.

(Pete Wentz's parents met at a Biden event)

It is a good day today. https://t.co/fh2T82c9gV

— elyssa ✨✨ (@MissElyssa92) January 14, 2021