Parents To Adopt Own Biological Twin Babies In Surrogate Controversy
By Kelton Brooks
January 20, 2021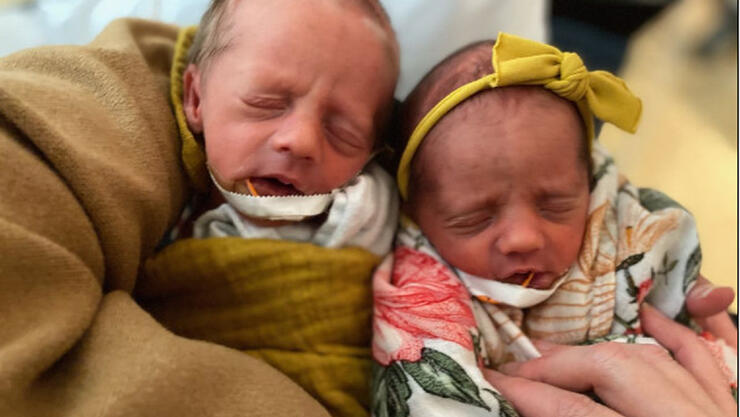 Tammy and Jordan Myers are the biological parents of newborns Eames Alexander and his sister, Ellison Erin Jewel.
The couple is listed as parents at Helen DeVos Children's Hospital where the babies have been treated since their premature births on January 11.
The birth certificate, however, lists surrogate mother – or "gestational carrier" – Lauren Vermilye and her husband, Jonathan, as parents.
But the biological parents have been unable to convince judges to name them parents.
"Now, they have to adopt, legally adopt, their babies," said attorney Melissa Neckers.
Tammy Myers, a cancer survivor, recalled that she and her husband figured that once they had a chance to explain their circumstances -- that a surrogate gave birth to their children -- judges would understand.
"We were floored," Tammy said.
Tammy and her husband are in the process of adopting their own children, going through background checks and home studies and answering questions about their thoughts on disciplining children.
There is another setback: they can't add the children to their health-insurance policy.
They tried to get an order declaring they are the parents before the births, then tried to have the husband declared biological father. Both couples signed stipulations in a surrogate-parentage contract.
"While this Court has genuine concerns about the present-day wisdom of the 1988 Surrogate Parenting Act, such concerns are better left to the legislative/political arena. This Court will not ignore by judicial action the clear language of (the law)."
Circuit Judge Scott Noto rejected a second request to name Jordan Myers as the father under the state's Paternity Act. Myers would have to "allege there exists a child which the Court has determined to be born (or conceived) during the natural mother's marriage but is not the issue of the marriage. No such determination has previously been made by the Court."
The babies are expected to be in the hospital for four to eight weeks.
The legal fight has been difficult, according to MLive, and costly, but Tammy Myers said that "no matter what, we will make sure we'll be able to bring them home."
Photo: Courtesy of Tammy Myers to MLive