The Flaming Lips Pull Off Successful 'Space Bubble' Concert In Oklahoma
By Andrew Magnotta @AndrewMagnotta
January 26, 2021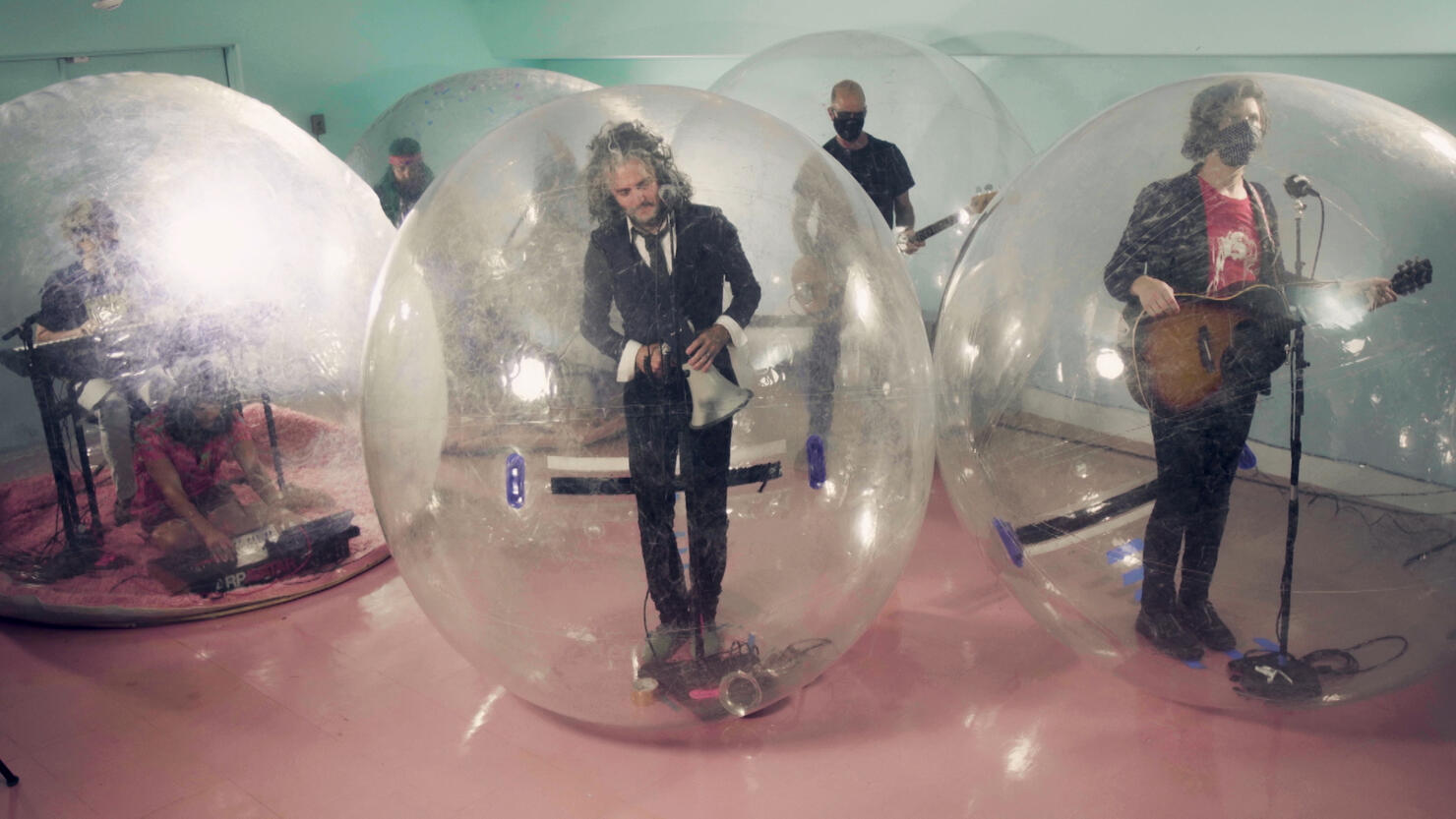 After months of planning The Flaming Lips on Friday pulled off their first 'Space Bubble' concert for the COVID-19 age.
The legendary alternative band has often deployed the plastic bubbles over the years as part of its revelatory live shows, with frontman Wayne Coyne donning the plastic to roll across the top of the audience.
But on January 22, the band first used the plastic pods as a pandemic safety measure at Oklahoma City's Criterion theater.
The band provided 100 inflatable see-through plastic bubbles from which fans could enjoy the concert. Each bubble in the audience held up to three people, according to Billboard. Onstage the band members were also enclosed in separate pods.
The 'Space Bubble' concert was originally scheduled to take place in early-December, but was postponed due to a rising number of coronavirus cases in the Oklahoma City area.
After appearing in bubbles on several late-night talk shows in the spring and summer, The Flaming Lips tested the 'Space Bubble' concert concept in October at the Criterion, where they shot live videos for its songs "Assassins of Youth" and "Brother Eye" from their latest album American Head.
Audience members were required to wear masks while waiting on line and while entering the venue. They were led to the Criterion floor in orderly groups and set up in their pods before the next group could enter.
During the show, staff was on hand to help audience members refresh the air in their pod or exit their pod if they had to use the restroom.
Coyne told Rolling Stone that the elaborate affair was a way to "enjoy a concert before putting out families and everybody at risk."
While the bubbles did ensure concertgoers were socially distanced, experts say the efficacy of the plastic in preventing COVID-19 transmission is unclear at best, and would require a more scientific study.
"...[I]n theory, if air filtration is good, protective barriers can helpfully augment and reduce risk of transmission, but I would be hesitant to attend a concert in a bubble at the moment unless this has been assessed further," Dr. Sandro Galea of the Boston University School of Public Health told the New York Times.
A German study on COVID transmission at indoor concert events published in the fall concluded that venue ventilation was the most important factor in preventing widespread infection at a live event.
The Flaming Lips have no other 'space bubble' concerts scheduled for the time being. Coyne noted on WTF with Marc Maron in October that one of the biggest challenges for the band was acquiring enough bubbles to make the show viable.
Photo: Getty Images