All The Food Freebies & Deals You Need To Know For Super Bowl LV
By Emily Lee
January 27, 2021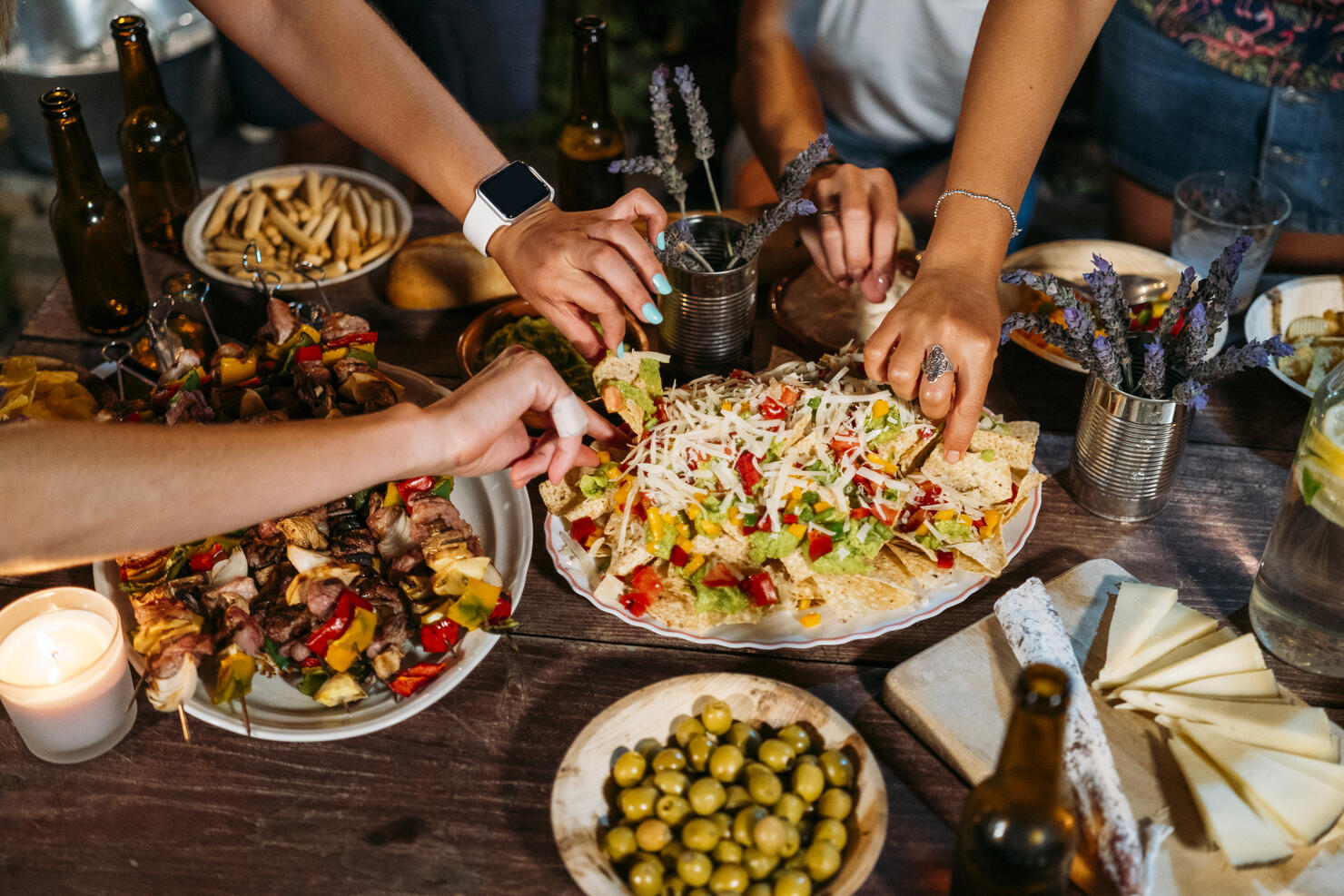 With Super Bowl LV right around the corner, it's time to start planning for the most important part of watching the big game—the food, of course. If cooking isn't your thing, but you still want to have a ton of delicious food, you're in luck. Offers.com compiled a comprehensive list of all the food freebies and deals available at your favorite restaurants for Super Bowl LV. From wings to pizza to desserts, you won't want to miss any of these promotions.
Pizza and wing deals:
Alex's Awesome Sourdough: From Feb. 3 until Feb. 10, head to your local Sprouts and intercept the amazing BOGO deal on Alex's Awesome Sourdough frozen pizzas. Naturally fermented, the dough is gut-friendly with a lower glycemic index, making it a true winner. The brand currently has three core pizza flavors: mushroom, sunflower pesto and mozzarella.
Crowd Cow: Looking to feed a hungry crowd on Game Day? Good through Feb. 28, enjoy 20% off the Chicken Wing Pack at Crowd Cow.
Donatos: Just like your football team needs a good offense AND a good defense, your Big Game menu needs both wings AND pizza. Donatos won't let you fumble this one. When you purchase a large pizza at regular price, you will get 12 boneless wings for just $4.99 at the original Edge to Edge® crispy crust pizza joint.
Giordano's: Wings and pizza top the list of must-have food items for football game-day food. Want inspiration for interesting combinations for your pizza/wing pairing or curious to know how many wings Americans typically eat on this most revered Sunday (hint: over a billion). Or you can go straight for the extra point and get 10% off any Giordano's order.
Golden Flame Hot Wings: Serving Colorado since 1994, Golden Flame Hot Wings is going all out for the 55th matchup. Their Game Day Special—the Super Pack 55—is 55 wings, bone-in or boneless, with up to three sauces, large fries and one 2-liter Pepsi product for…you guessed it: $55. Also, if you are preparing your own wings for a homegater, use the code SUPERBOWL55 to receive 25% off bottled sauces.
Grimaldi's Pizzeria: Where football is being watched, pizza should be served. To that end, Grimaldi's has you covered with two terrific carry-out meal deals. For $25 (plus tax), get a traditional 18-inch cheese pizza, with your choice of a small house or Caesar salad and two fountain drinks. Hungrier crowd? No problem. Select Meal Deal #2 with two traditional 18-inch pizzas, choice of a large house or Caesar salad and four fountain drinks for $40 (plus tax). And with your food purchase, get your wine to-go HALF OFF!
Hooters: Keeping you in the game with two Game Day offers, Hooters is vying to be your most valuable player. Place a pre-order of $60 or more between now and Feb. 6 and get $10 off when you order on HootersOnTheFly.com or in the Hooters app with the promo code BIGGAME. Need to feed the whole family? Spike it with Hooters MVP Bundle, featuring 42 wings and your choice of two sides: curly fries, fried pickles or tots for $39.99 (offer good until Feb. 7).
Krystal: Score big on Game Day weekend at Krystal with their 10-10-10 deals. That's ten Krystals plus ten Wings for just $10. Good from Feb. 6 through Feb 8. Valid on-lot and on the third-party delivery apps DoorDash, Uber Eats and Grub Hub.
Ledo Pizza: It's all about pizza and wings at Ledo Pizza for this year's game. For $29.99, you can polish off their Football Deal: one 18-inch one-topping pizza, an Italian salad and six jumbo wings.
Little Caesar's: Tailgating on your couch for the Big Game? Sounds like football nirvana to us. Want to go for the extra point? Snag Little Caesar's Hot N' Ready Pepperoni Pizza for $7.
Papa John's: If you haven't tried the New Epic Stuffed Crust Pizza from Papa John's, tackle that right now for $12.
Pieology: Pizza fans can be on the receiving end of Pieology's $5 off any $25 purchase or more when using the code BIGGAME2. Order online or in-store on Feb. 7.
Deals on feasts, packs and bundles:
Abuelo's: Score your family feast or party pack of fajitas, enchiladas or tacos from Abuelo's on Game Day. Family Feasts and Party Packs—beef or chicken—feed up to six people and Party Packs come with a choice of beer or bottle of wine. Family Nachos, serving two to four people, start at $10.99. Feed four to six with the family fajita feast for $61.99. Check out the entire playbook Abuelo's.
Bad Daddy's Burger Bar: Feeding a whole team? Check out the Family Packs at Bad Daddy's Burger Bar. With over 35 locations throughout the Carolinas, Oklahoma, Georgia, Tennessee and Colorado, if you haven't had a burger from Bad Daddy's, no more excuses. They've got your Big Game day covered with some great Family Packs. The Slider Family Pack starts at $28. The Salad Family Pack is from $14. The Wing Family Packs start at $35. Chicken Tender Family Packs are from $32.
Bar Louie: Show up with the Slider Bundle for the home team from Bar Louie starting at $40 and earn the MVP. Family meal bundles, intended to feed up to four people, are also great play options.
BJ's Restaurant & Brewhouse: Lead the team in extra points by catering the Big Game with a BJ's Restaurant & Brewhouse Homegating Pack. The package includes one large, deep-dish pizza, choice of one family-sized chips and dip, choice of two sharable appetizers and choice of a 64-ounce BJ's Handcrafted Signature Beer growler or non-alcoholic beverage, all for $64.95. Brewhouse Homegating Packs are available for take-out and delivery. Fans can place their orders through BJ's website or the BJ's mobile app. For feeding a smaller crew, take advantage of BJ's half-off any large pizza deal.
Black Angus Steakhouse: In honor of the Big Game, for one day only, Black Angus will be opening all locations at noon on Feb. 7. Enjoy one of their Big Game Specials like the Steakhouse Cheeseburger Meal Pack that includes four bacon cheeseburgers with fries, a garden salad and eight chocolate chip cookies for $59.99, the Cheeseburger Sliders (12 bacon cheeseburgers) deal for $29.99 or get your Happy Hour To-Go for $29.99.
Bonefish Grill: Looking for the perfect game plan? Look no further than a Bang Bang Shrimp Taco, Wood-Grilled Salmon or Lily's Chicken Family Bundle from Bonefish Grill. Each bundle serves up to five and includes salad, fresh bread with pesto and house-baked cookies, starting at just $29.90.
Carrabba's Italian Grill: Feed the entire team with a Carrabba's Family Bundle. Bundles that serve up to five people start at just $34.99. Enjoy bundle entrees including Spaghetti, Lasagna, Chicken Parmesan, Chicken Marsala, Salmon Saporito, Rigatoni Campagnolo, Penne Carrabba or Penne Alfredo.
Gordon Biersch Brewing Company: Take your game day to any of Gordon Biersch Brewing Company's seven locations and feast on the Super Special (one starter, two pizzas and two beers) for $35 or the Fan's Feast (one starter, four pizzas and four beers) for $55. Or chow down at home with takeout deals like the Tailgate for Two (one starter, two pizzas and two growlers) for $35 or the Team Tailgate (one starter, four pizzas and four growlers) for $55. Pricing on all specials varies depending on location.
Red Lobster: From Monday, Feb. 1 through Feb. 7, Red Lobster is offering Big Game Bundles, which include FREE cans of Pepsi, for to-go and delivery orders. Choose the Create-Your-Own Big Game Bundle with a choice of three seafood favorites, two large sides, eight Cheddar Bay Biscuits and a Pepsi 4-pack for $46.99 or the Ultimate Big Game Bundle with Maine lobster tails, snow crab, shrimp scampi, Walt's Favorite Shrimp, two large sides, eight Cheddar Bay Biscuits and a Pepsi 4-pack for $110.99.
Rock Bottom Brewery: From Feb. 4 through Feb. 7, dine in at any of Rock Bottom Brewery's19 locations and enjoy the Super Special (one starter, two pizzas and two beers) for $35 or the Fan's Feast (one starter, four pizzas and four beers) for $55. Or take the party to your place with either the Tailgate for Two (one starter, two pizzas and two growlers) for $35 or the Team Tailgate (one starter, four pizzas and four growlers) for $55. Pricing on all specials varies depending on location.
TGI Fridays: Going for the big score, TGI Fridays is offering 25% off Family Meal Bundles and Platters for online and to-go orders. The playbook is filled with options like Whiskey-Glazed Sliders, Fried Chicken & Shrimp Bundle and more. Use the code HOMETEAM on orders placed between Jan. 29 and Jan. 31 and also from Feb. 5 through Feb. 7 to receive 25% off.
TooJay's Deli: Available for takeout or contactless curbside pick-up, TooJay's Deli is delivering Game Day Bundles that feed eight to 10 people with an assorted signature sandwich platter, potato salad, coleslaw, pickles, a dessert platter, condiments, plates, utensils and napkins for $124.99.
Yard House: Blitz your home Game Day watch party with the help of the Yard House Tailgate Takeout Pack, featuring signature chicken nachos, wings (traditional, boneless or Gardein, with a choice of sauce) and a choice of two pizzas for $50.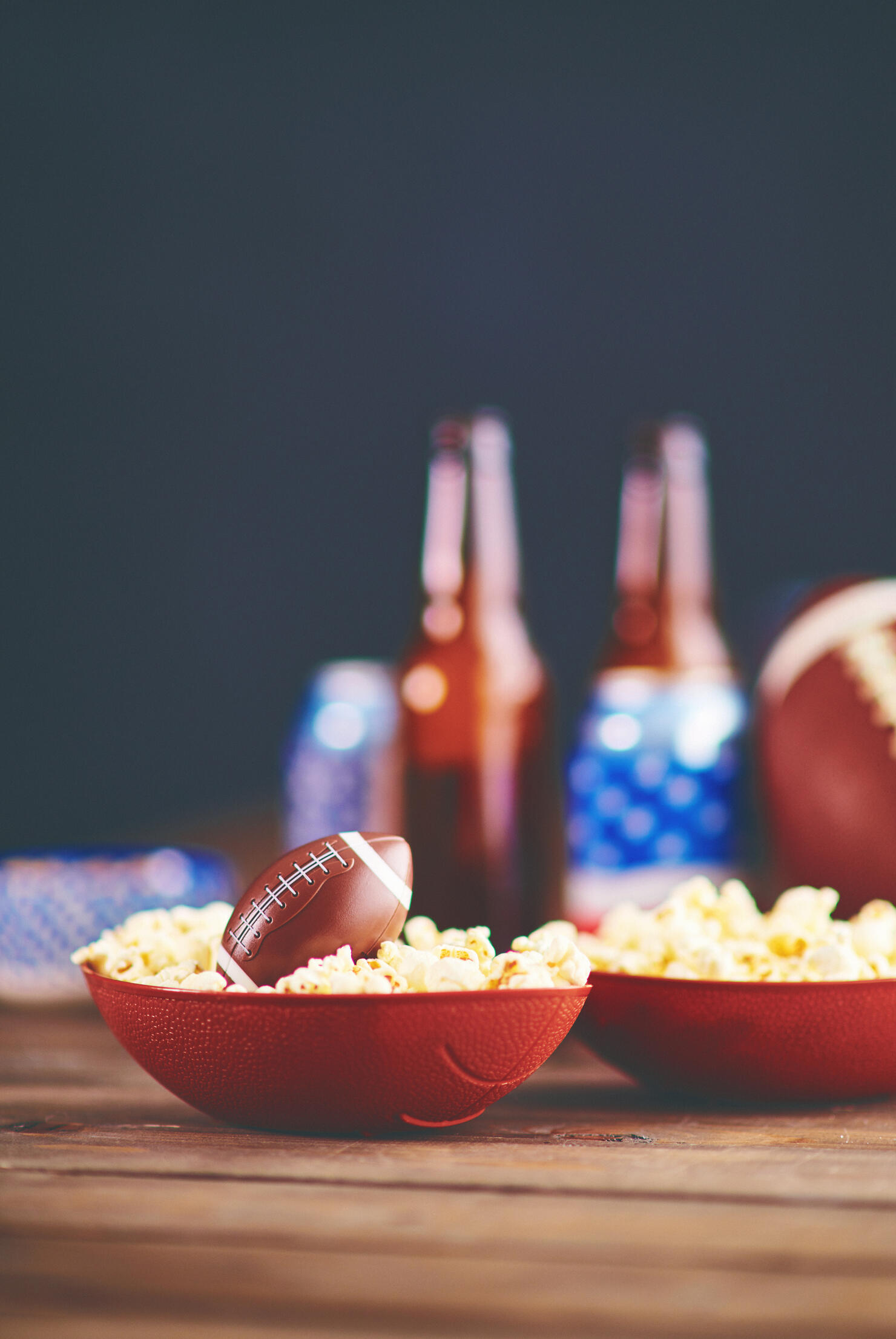 Food freebies:
Applebee's: On Feb. 7, you'll want to snatch up some FREE Classic Boneless Wings from Applebee's. Order $40 or more for delivery or to-go (using promo code BIGGAME) and get 40 Classic Boneless Wings for FREE. Score your wings and pay ZERO delivery fee all day (includes their entire menu).
Buffalo Wild Wings: Guests who pick up any size Party Wings Pack (boneless or traditional) from Buffalo Wild Wings before 4 p.m. ET (1 p.m. PT) on Feb. 7 will receive six FREE wings on a future visit. Grab 50, 100—or throw it long and go for 150 wings—to enjoy six FREE wings on your victory tour—Again this year, Buffalo Wild Wings is promising six FREE wings to everyone in the U.S and Canada if the Big Game goes into OT. Available for dine-in or takeout, BWW will follow up with the final redemption date and time should that event occur. Stay tuned!
Del Taco: Looking for a sure bet on Feb. 7? You'll want to rush your nearest Del Taco and order up the Fiesta Pack on Game Day, and they'll hand off a FREE regular-sized chip and guacamole.
Dickey's Barbecue Pit: On Sundays at Dickey's Barbecue Pit, with a dine-in purchase of an adult meal, kids eat FREE. And guess what day the Big Game falls on? Yep!
Tumbleweed Tex Mex Grill: If you find yourself in Kentucky, Ohio or Indiana for the Big Game, then you are in luck. Tumbleweed Tex Mex Grill and refreshing Margarita Bar will handle the kids. Feeding them that is. Every Sunday, including game day, kids eat FREE with the purchase of an adult entrée.
Deals on food delivery and carryout:
Dickey's Barbecue Pit: Enjoy $5 off any $25 carryout order from your nearest Dickey's location.
Dreyer's Ice Cream: Spend $20 on select Dreyer's ice cream products and save $5 or unlock free delivery on Instacart.
Grubhub: Never used Grubhub? There couldn't be a better time than the 55th Big Game. Use the Grubhub promo code AFF7 to get $7 taken off your first order of $12 or more. Already a pro on Grubhub? Get free delivery on orders over $15.
Kansas City Steak Company: Delivering more than steak (think snacks, sweets, burgers, dogs, mac n' cheese bites and more), Kansas City Steak Company sells premium beef, poultry, seafood and other good stuff for home delivery. And they are helping you step up your game with football deals you won't want to miss, like a $175 savings on The Winning Play, a $105 discount on The Snack Pack and The Game Day Grillers pack will score you $115 extra points in your wallet.
Kraft Products: Spend $25 on select Kraft products including Big Game favorites like Kraft cheeses, lunch meats, frozen sides and appetizers. Save $5 or unlock FREE delivery by using Instacart.
Pepsi, Doritos, Lay's and Tostitos: When you spend $28 on your favorite Pepsi, Doritos, Lay's and Tostitos brands, save $5 or unlock FREE delivery by using Instacart.
Smartfood Popcorn: Buy two Smartfood popcorn products and save $1.00 when you order on Instacart.
Utz Chips: Mix and match two select Utz chips, and save $1.50 by using Instacart.
Sweet treat dessert deals:
Bake Me a Wish!: Having a small gathering over to watch the 55th Big Game? To make sure you have plenty of dessert coverage, you'll want to order up the Gourmet Brownie Sampler from Bake Me a Wish! It contains 12 delicious brownies, including three Chocolate Truffle, three Chocolate Truffle with Walnuts, three Marble Cheesecake and three Cookies & Cream brownies. Make it even richer with this 25% off any order deal.
Baked by Melissa: No matter who wins on Feb. 7, victory is yours when you order the dessert pack with 25 bite-size cupcakes from Baked by Melissa. Choose the 25-bite-size deal or other tasty treat and get 10% off orders over $50 or 15% off orders over $120.
Carlo's Bakery: Be the boss of your own game with this dandy deal from the Cake Boss himself. Order the Cookies & Cream Cake, which comes pre-sliced into eight pieces or the pre-sliced Carrot Cake from Goldbelly. Both pre-sliced full cakes are $10 off, on sale for $64.95 and ship for FREE. Make another choice from Goldbelly and enjoy 15% off with your email sign up.
Cookie Bouquets: Get ready for some football…with the Football Cookie Box—twelve assorted gourmet cookies including football-shaped and decorated butter cookies from Cookie Bouquets. Make game day even more triumphant with 15% off when using the code SWEET15.
Mrs. Field's: Round out your football-themed buffet with the Game Time Football Cakefrom Mrs. Field's for $44.99. Even better, get it 20% off with code VDAY20 through Jan. 29.
Tiny Pies: Enjoy a great match up when you order the six football-shaped hand pies from Tiny Pies. You'll get three apple and three cherry pies shaped like little footballs for $27—even if your favorite teams didn't get paired up on Sunday, this combo of cute and tasty can't be beaten.
Wicked Good Cupcakes: Even if you aren't having a large group over for a watch party this year, nowhere does it say you have to be more than a group of one to order a Party Pack from Wicked Good Cupcakes. Enjoy 15% off orders over $40 through Feb. 1 with the code BUDDY21. Order now for your Feb. 7 delivery and get ready to huddle around delicious single-serve, fresh-baked cupcakes and pies in jars. Each jar lasts 10 days without refrigeration and can be frozen for up to six months.
Photo: Getty