Here's How Tom Brady Apologized To Tyrann Mathieu For Super Bowl Spat
By Jason Hall
February 8, 2021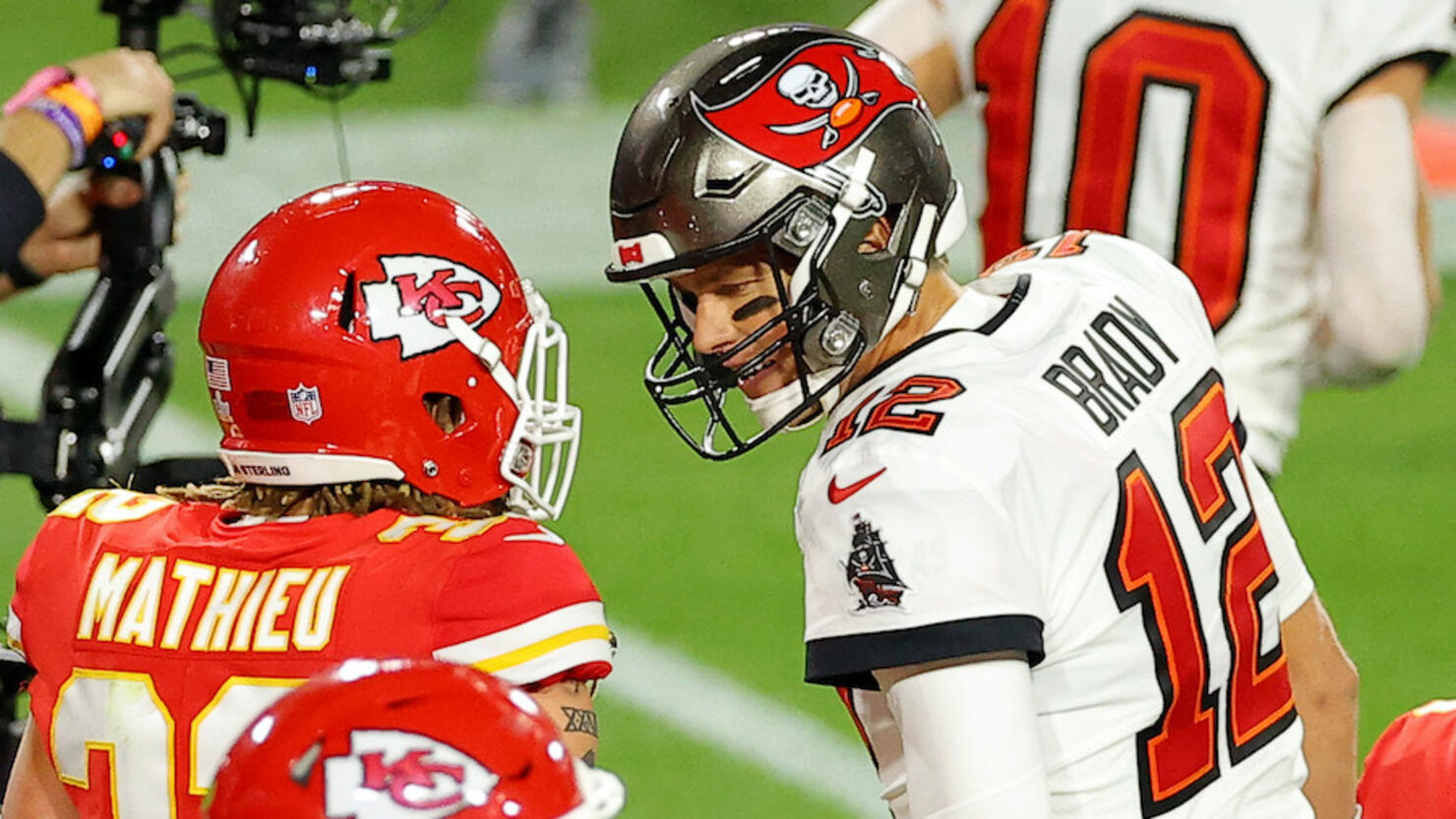 Tampa Bay Buccaneers quarterback Tom Brady reportedly reached out to Kansas City Chiefs safety Tyrann Mathieu for several visible on-field verbal altercations between the two players immediately after Super Bowl LV on Sunday (February 7.)
ESPN 's Jenna Laine reports Brady sent Mathieu a text message immediately after the Bucs' 31-9 victory, according to a source with knowledge of the situation, and confirmed ESPN reporters were read the contents of the text out loud.
Brady is reported to have acknowledged losing his composure in the heat of the moment, which Mathieu said, after the game, "I've never really seen that side of him." The two players were seen multiple times engaging in a back-and-forth which, at one point, saw Brady chase the safety down and get in his face.
Brady reportedly referred to Mathieu as the "ultimate competitor" in the apology text and said he needed to match the safety's intensity on Sunday. He added that he'd enjoyed watching Mathieu play since his collegiate career at LSU and praised the safety for his heart, calling him an "incredible leader, champion and class act."
Brady is also reported to have expressed interest in apologizing to Mathieu in person at some point in the future and said his outbursts were part of an emotional moment but do not reflect his feelings toward Mathieu, who he praised when asked about in the week leading up to Super Bowl LV.
In a since-deleted tweet, Mathieu accused Brady of starting the verbal altercation by calling him "something I won't repeat."
"He's clearly chasing me, but I got flagged," Mathieu said in another since-deleted tweet.
Brady finished Sunday's game with 201 yards and three touchdowns on 21 of 29 passing, winning a record fifth Super Bowl MVP Award, surpassing his own previous record set in Super Bowl LI (2017.)
Sunday's win was Tampa Bay's second Super Bowl victory in franchise history. The Buccaneers are also the only team in NFL history to both host and win a Super Bowl in their home stadium.
Photo: Getty Images