Portland Man With 'Not Drunk' Sticker Arrested For DUII
By Zuri Anderson
February 10, 2021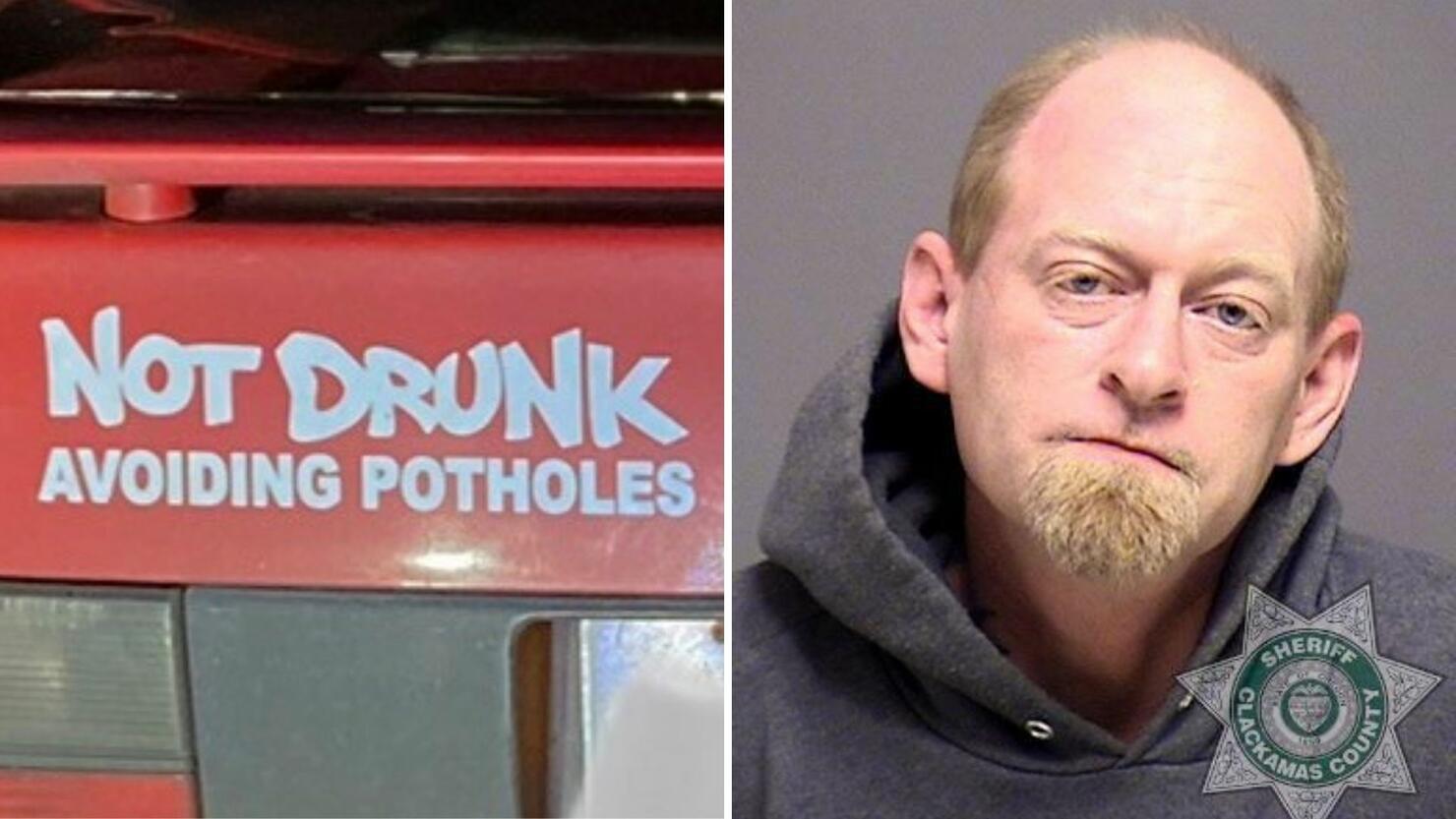 A Portland, Oregon man had a sticker on the back bumper of his car reading, "Not drunk, avoiding potholes." He was also taken into custody on multiple charges, including DUII, according to KOIN on Monday (February 8).
The incident happened Saturday night (February 6) in Sandy, Oregon. A Clackamas County sheriff's deputy saw 41-year-old Jeffrey Cannon's red Volkswagon Jetta approach him on Highway 26, according to the sheriff's office. The deputy pulled his patrol car near Cannon's vehicle, and Cannon sped past the official, clocking in between 80 and 90 miles per hour.
"The deputy pulled over Cannon who initially didn't respond when the deputy called out to him. Instead, Cannon's vehicle rolled backward about 25 feet — hitting the front of the deputy's patrol car," reporters wrote.
The official not only smelled alcohol from the car, but he spotted a half-full can of beer in the Jetta's cupholder, officials said. When asked why he let the Jetta roll into the patrol car, Cannon reportedly looked confused and said, "I didn't know that happened."
Officials said Cannon admitted to have a concealed and loaded Glock handgun, but the deputy noticed it didn't have a serial number. He also found multiple empty beer cans and a baggie of cocaine in the Jetta, according to deputies. The official later learned Cannon was a convicted felon and driving with a suspended license, reporters said.
Cannon provided a breath sample, and when asked how he did, he reportedly said, "Not good." Deputies said the test showed a .22% blood alcohol concentration, more than twice the legal limit.
Cannon was booked at the Clackamas County Jail on DUII, felony possession of a firearm and possession of cocaine.
Photos: Clackamas County Sheriff's Office