Customs Seizes Three Dozen Chinese-Made Counterfeit Guitars In Virginia
By Andrew Magnotta @AndrewMagnotta
February 11, 2021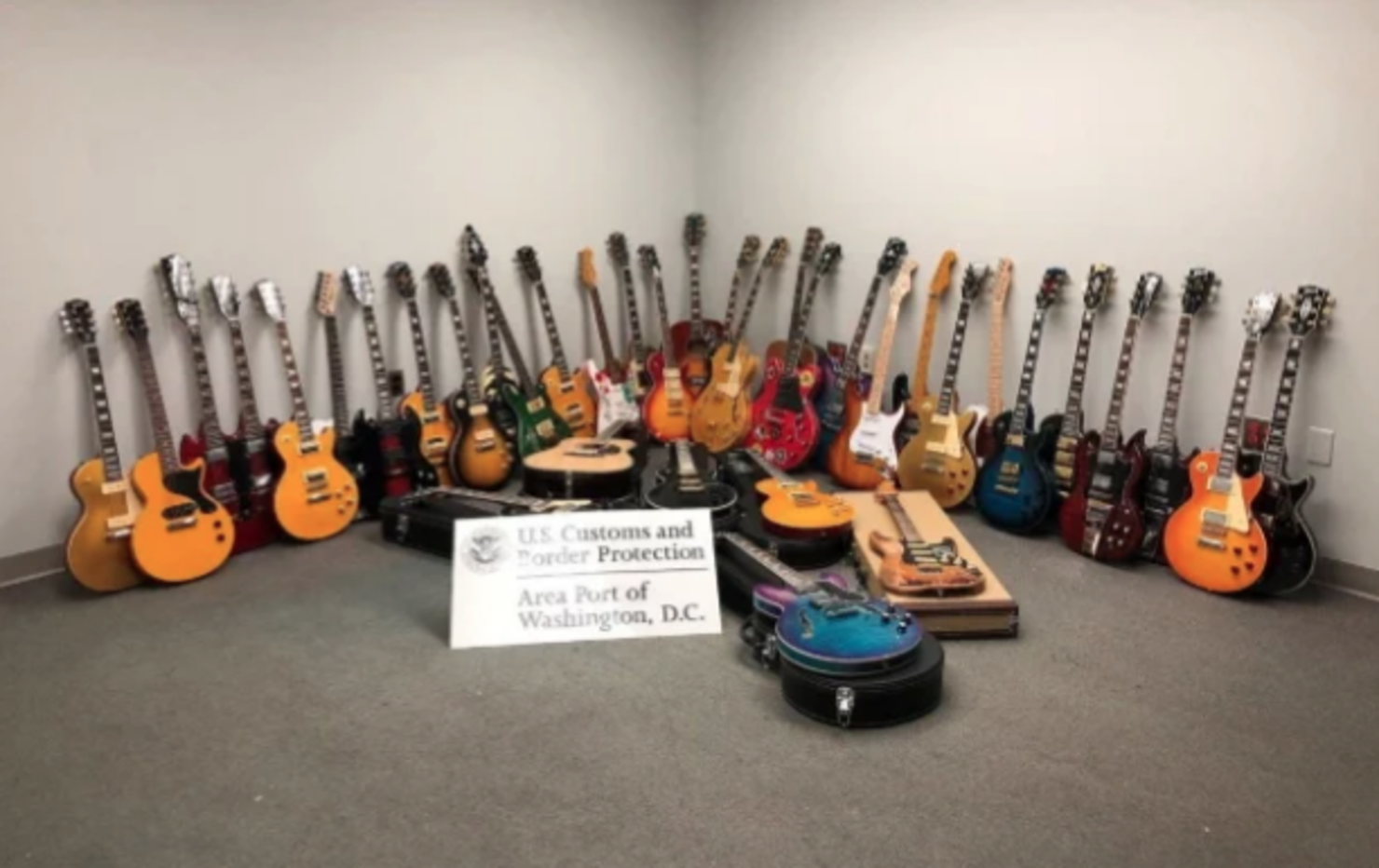 U.S. Customs and Border Protection officers at Washington Dulles International Airport in Virginia recently seized 36 counterfeit guitars that, if authentic, could have fetched as much as $158,692 at retail.
The bootleg instruments arrived in 36 different shipments from China on December 15. Suspecting something was amiss, officers detained the items to investigate.
The collection consisted of knock-offs of 27 Gibson, six Fender, two CF Martin and one Paul Reed Smith.
Reports note that many of the Gibsons were made to look like Les Paul customs — one of the brand's biggest-ticket lines. Counterfeiters forged a Jimmy Page double-neck SG, a Les Paul purportedly autographed by Slash and an Ace Frehley signature Les Paul, which has an MSRP of $9,000 when it's real.
The guitars were being shipped to addresses in 21 U.S. states and Australia.
"Transnational criminal organizations will counterfeit anything that generates illicit revenues and unscrupulous vendors line their pockets by preying on unsuspecting consumers," said CBP Acting Director of Field Operations in Baltimore. "Protecting intellectual property rights is a Customs and Border Protection trade enforcement priority, and CBP officers will continue to seize counterfeit and potentially unsafe consumer goods when we encounter them."
CBP officials contacted Gibson, Fender, CF Martina and PRS to confirm the guitars were indeed counterfeit.
As each company is headquartered in the U.S. — and best known for their American-made guitars — it it likely that the guitar bound for Australia was shipped through the U.S. so it would arrive with American postage.
The seizer was completed on January 20.
Guitar players of all levels of experience have been bilked by counterfeit guitars in recent years. There are many resources available to help buyers determine if a guitar is the real thing.
Check out the video below by Phillip McKnight for some tips.
Photo: U.S. Customs And Border Protection