Another Winter Storm Expected To Hit Middle Tennessee This Week
By Sarah Tate
February 16, 2021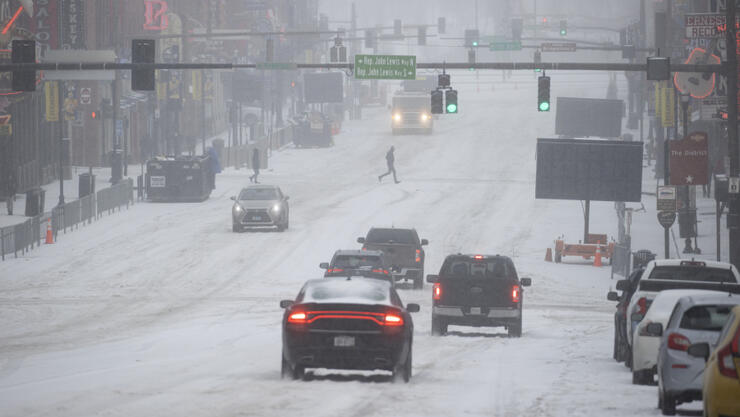 Tennesseans should prepare to stay indoors for a little while longer. As much of the mid-state remains under ice and snow, a new winter storm is expected to add to the icy conditions. According to FOX 17, the new front could bring freezing rain and sleet to the area Wednesday night and into Thursday morning.
As of Tuesday morning, four counties are under a Winter Storm Watch, WKRN reports: Benton, Carrol, Henry, and Decatur. As the week continues, more counties are expected to join the watch, with parts of Middle Tennessee getting up to 4 inches of snow and additional ice accumulation.
Over the weekend, the majority of the country was hit with a large winter storm, sending temperatures dropping to below freezing and knocking out power for millions. In Tennessee, freezing rain and sleet began to accumulate on Sunday (February 14) before evolving into snow flurries by Tuesday morning.
As the snow moved out, the icy conditions still continued to impact much of the mid-state's infrastructure. Roadways and major Interstates remained frozen over, with low temps preventing the accumulation from melting and clearing the roads. Several wrecks involving tractor trailers were reported along Interstate 40 in Wilson County on Tuesday morning as was a jackknifed semi on Interstate 24. The winter storm also led Nashville International Airport to cancel almost every flight Monday and Tuesday.
Photo: Getty Images