Here's What Tom Brady Told Bucs Teammates Before Super Bowl LV
By Jason Hall
February 16, 2021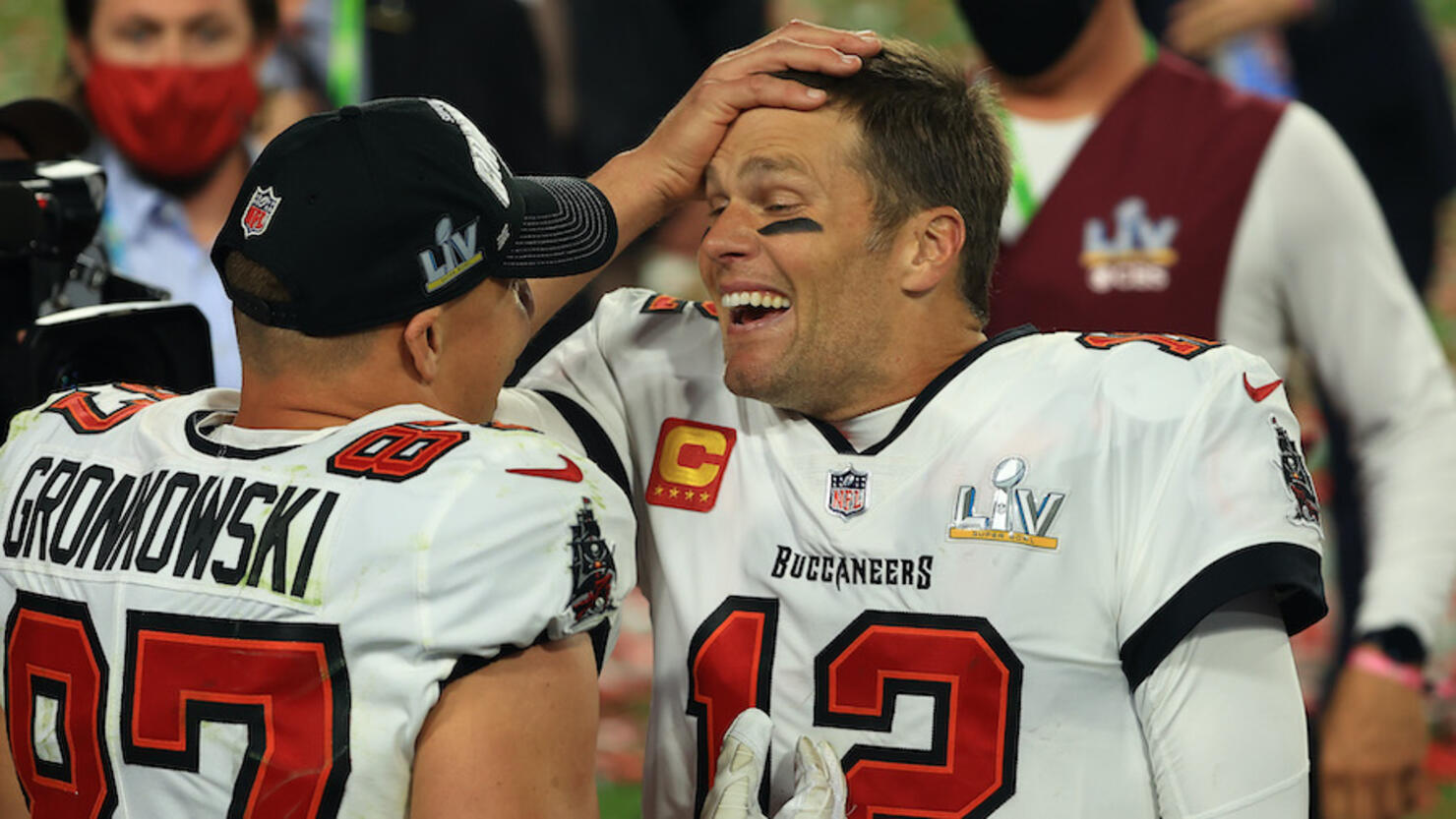 Tom Brady and several of his Tampa Bay Buccaneers teammates have revealed details of what the quarterback told the team prior to their Super Bowl LV victory.
Following the Bucs' 31-9 win over the Kansas City Chiefs on February 7, several players said Brady gave a motivational speech prior to his seventh Super Bowl victory.
Audio of the speech has not yet been released, but NBC Sports' Peter King included some details in his weekly 'Football Morning in America' column this week.
"Seize the opportunity!" Brady said, according to King. "We win today and we're champs for life!"
Linebacker Devin White tweeted the Buccaneers asking the franchise to release the audio of Brady's speech last week.
"@Buccaneers Can y'all drop @TomBrady pre-game speech," White shared on February 8.
Other teammates described the pregame speech to Rick Stroud of the Tampa Bay Times as "the epic of epics."
Running back Leonard Fournette also revealed details of Brady's pregame speech, crediting the quarterback for helping the team "realize" they were going to win Super Bowl LV.
"He gave us a speech before the game about honor," Fournette said during an appearance on ESPN's 'First Take' last week. "I ain't going to go into details about it, but it was deep, you know? I'd never felt that deep — my feelings toward the word 'honor' until he put it in a sentence that made everybody open their eyes and realize that we were going to win this game."
Fournette also said Brady texted teammates on a nightly basis leading up to Super Bowl LV, reaffirming the message, "We will win this game."
Brady, who was mic'd up for Super Bowl LV, was also shown motivating his receivers during the Bucs' pregame warmups.
"Great day, boys," Brady said. "Lock in now. Lock in. You know what to do. From here, we're just playing ball. We already know what they're going to do. We've got all the answers to the test. Now we just have to go have some fun and go execute."
Brady finished Sunday's game with 201 yards and three touchdowns on 21 of 29 passing, winning a record fifth Super Bowl MVP Award, which surpassed his own previous record set in Super Bowl LI (2017.)
The victory was Brady's first as a member of the Buccaneers after joining the franchise in March following 20 seasons with the New England Patriots.
Brady now owns a 7-3 record all-time in the NFL's biggest game and surpassed his own previous record for most Super Bowl wins by a quarterback (6) set in February 2019. The 43-year-old also broke his own record as the oldest quarterback to both start and win a Super Bowl also set in 2019.
Sunday's win was Tampa Bay's second Super Bowl victory in franchise history. The Buccaneers are also the only team in NFL history to both host and win a Super Bowl in their home stadium.
Photo: Getty Images