UMass Amherst Bans Students From Leaving Dorms For Walks Amid COVID Spike
By Jason Hall
February 16, 2021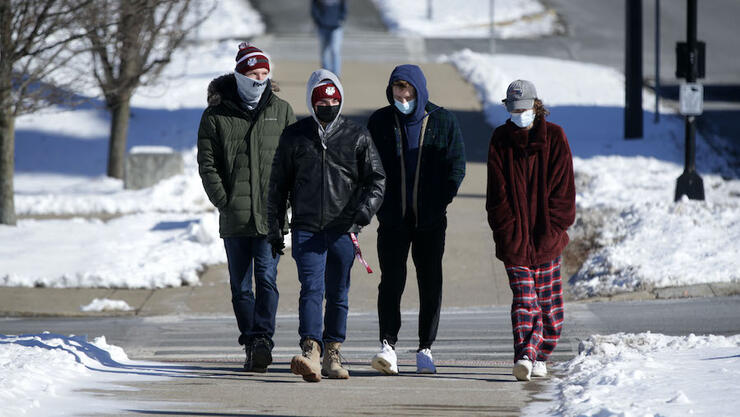 The University of Massachusetts at Amherst is taking strict action amid a spike in COVID-19 cases on campus.
The university has placed the campus on lock down and several restrictions have been implemented for students, including a limit on who can take walks around the campus, NBC Boston reports.
Students have been directed to limit interaction at the encouragement of state public health officials in an effort to limit the spread of COVID-19 and the school expects everyone's cooperation, according to UMass Amherst's official website.
All UMass Amherst classes will be held remotely and students living in dormitories or off-campus housing will be instructed not to leave their residences with exceptions including meals, COVID testing twice per week and medical appointments for the foreseeable future, NBC Boston reports.
All UMass Amherst athletic practices and competitions have been canceled as part of the new restrictions. The near-shutdown on campus will continue until at least February 21 and will only be lifted "if the public health situation improves significantly" during that time.
Students living in residence halls are prohibited from leaving their residence to go for a walk as they are required to isolate in their dorm, according to UMass Amherst's website. However, students with dogs will be allowed to go on short walks while wearing a mask, but must adhere to social distancing guidelines and avoid unnecessary interactions with others.
The university says students can use the allowed trips for meals and twice-weekly COVID testing at the Mullins Center as opportunities to take walks for their health, as well as participating in virtual fitness classes.
Students living in the same residence hall will also be prohibited from hanging out in each others' rooms and no guests will be allowed until further notice. Additionally, students are not allowed to gather in any spaces while the new restrictions are in place.
The new restrictions were announced on February 5 as school officials said there was "a concerning rise" in new positive COVID-19 cases.
Photo: Getty Images