DaBaby Explains His JoJo Siwa Lyric That Caused Internet Confusion
By Peyton Blakemore
February 22, 2021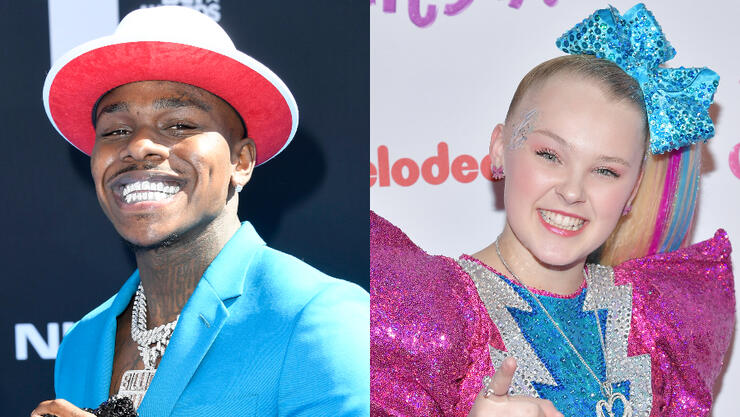 All is good between DaBaby and JoJo Siwa! (Bet you never thought you'd ever read that sentence)
Over the weekend, the "Rockstar" rapper dropped a freestyle titled "Beatbox," and a certain line that name-dropped the Dance Moms alum had many on the Internet convinced that he was dissing JoJo.
"N****, you a b*tch/ JoJo Siwa, b*tch/ She let the wrong n**** get rich," DaBaby raps on the track. Additionally, in the "Beatbox" video, the Charlotte rapper holds up a photo of a smiling Siwa while rapping the line. (See the video HERE)
DaBaby's bar sparked almost immediate confusion, as fans reacted to the line on Twitter, TikTok, Instagram, you name it. On Twitter specifically, DaBaby was one of the top-trending topics of the weekend as many asked if the two had an unknown beef.
"can someone please explain why da baby is dissing jojo siwa when she's 12 years younger, 10 times richer, and 2 inches taller than him," influencer James Charles tweeted.
While those on the Internet continued to express their confusion, DaBaby tweeted an explanation of his Jojo name-drop on Sunday (February 21), explaining that there is no beef between the two. In fact, he is a big fan.
"I love Twitter bruh," DaBaby tweeted, before addressing JoJo directly. "my 3 year old princess is your number 1 fan. I bought her every product you have out. She think she you." He added, "Don't let em trick you into thinking id ever have a problem with you. My word play just went over their heads. All love on my end shawty, Keep shinning!"
DaBaby also wrote on his Instagram Stories, "Y'all MFs sick lol. Y'all ok w/ that child being tricked into thinking I got a problem with her, WE F**K WIT YOU JOJO."
Glad that's all cleared up!
@itsjojosiwa my 3 year old princess is your number 1 fan. I bought her every product you have out. She think she you.😂

Don't let em trick you into thinking id ever have a problem with you. My word play just went over their heads.

All love on my end shawty, Keep shinning! 💝

— DaBaby (@DaBabyDaBaby) February 21, 2021