David Bowie Goes Aladdin Sane On 'Off The Record: David Bowie'
By Diana Brown
February 23, 2021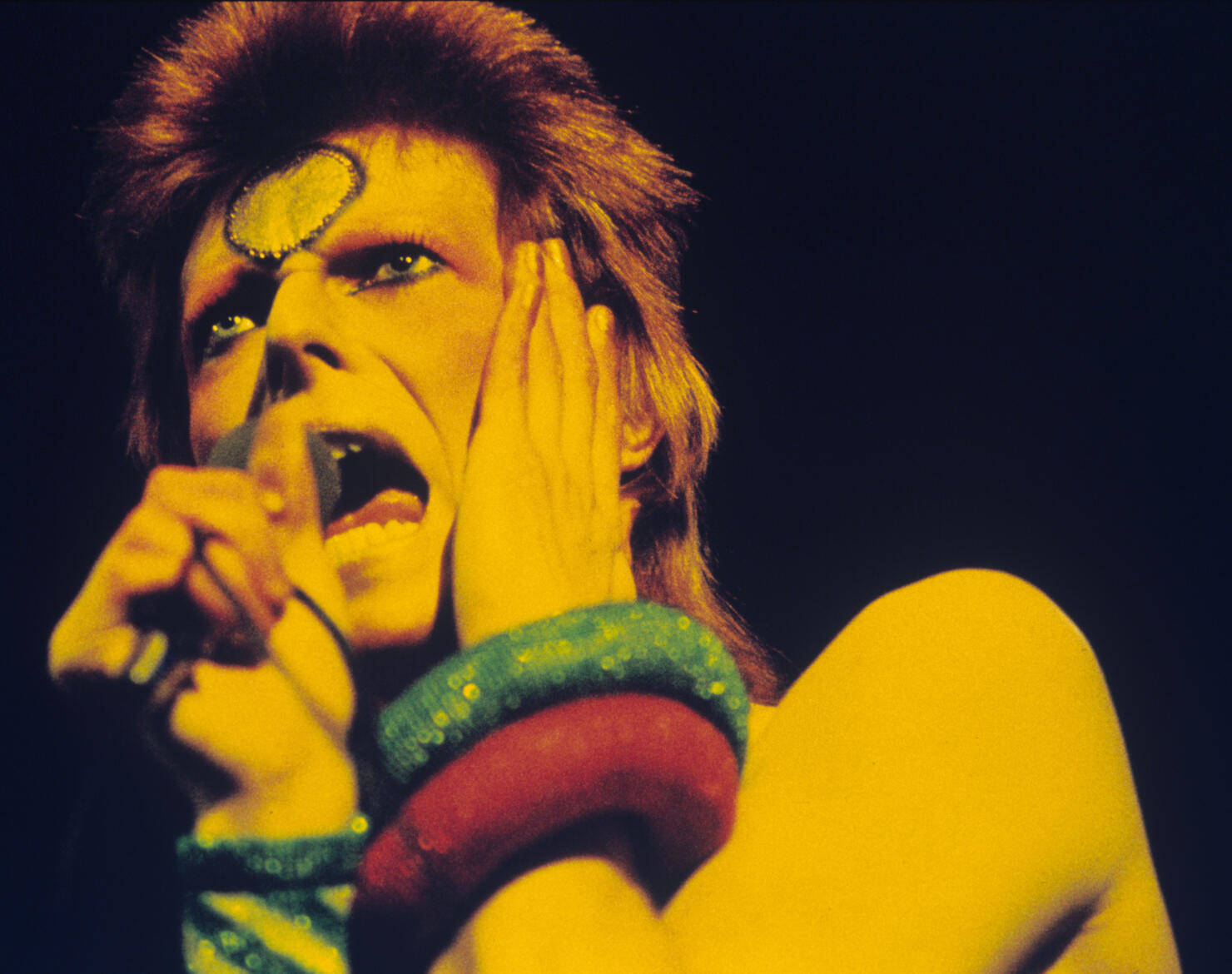 This episode of Off The Record: David Bowie finds David Bowie in 1973, about to perform the last show of his Ziggy Stardust tour, and sliding into madness as his space age alter ego threatens to erase "the boy from Bromley" altogether. Host and music journalist Jordan Runtagh explains that David's marriage is breaking up, his finances are in shambles, he's facing a third U.S. tour in less than a year, and feeling creatively stifled – but mostly so afraid that the curse of mental illness that claimed his half-brother would also claim him, helped along by playing Ziggy all day everyday, and by the demands of fans and his manager, his crumbling relationships with his family and band, and his cocaine use. Even though it would come as a complete surprise to the Spiders from Mars ("about to be fired in the most public way imaginable"), it was time to commit "a real 'Rock 'N' Roll Suicide'" – and at the same time, "put the masterstroke on his most enduring work."
Ziggy Stardust was a sensation in the UK, so for David's manager Tony Defries, it was time to conquer the United States. Tony's strategy was for David and his entourage to act like superstars. Upwards of 40 people tagged along with David's U.S. tour, including Cherry Vanilla, Iggy Pop, and a tarot reader, all staying in luxe hotel rooms, ordering lavish meals, and partying on company credit cards. "No one knew whose money it was, and no one asked," Jordan says, but a showdown seems imminent between David, his record label RCA, and his force-of-nature manager. But it worked: David's tour swelled from eight days to eight weeks. He was becoming the huge star he always wanted to be.
But David wasn't happy. He felt like he didn't know who he was anymore. "He was a monster, and I was Dr. Frankenstein," David would later say of Ziggy Stardust. Ziggy was all the fans (and the label) wanted, so David was Ziggy 24/7. And though he was creatively inspired by his tour in America, where he conceived his Aladdin Sane album, and in Japan, when he began to incorporate Kabuki theatre elements to his live shows, he was also increasingly cut off from the real world, surrounded by groupies and sycophants. Something had to give. Jordan explores David's psychology, lovers, life, and music in thrilling detail, from his fear of flying to his "aerobic" lovemaking to his impressions of America and everything in between. Learn all there is to know about the iconic musician on Off The Record: David Bowie.
If you want to be sure you're listening to the podcasts everyone else is checking out, iHeartRadio has you covered. Every Monday, iHeartRadio releases a chart showing the most popular podcasts of the week. Stay up to date on what's trending by checking out the chart here. There's even a chart just for radio podcasts here, featuring all your favorite iHeartRadio personalities like Bobby Bones, Elvis Duran, Steve Harvey and dozens of others.
Photo: Getty Images